Time to dispense with the furry little rally squirrel. (The Cardinals were 1-1 when he appeared, anyway.)
We need this team to be in full out beast mode tonight.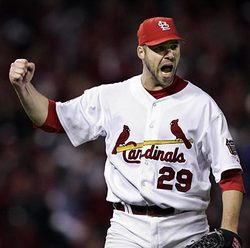 Let's hope Chris Carpenter has 3-4 more good starts left in his arm this season. If so, tonight could be a game for the ages.
These Phillies are allegedly the best team in baseball, with a 102-60 record. This series was to be little more than a warm-up for their sprint to the World Series. When the Phillies won the first game 11-6, everyone pretty much thought the series was over.
Everyone but us.
The thing is, our boys have outplayed them. They've outhit the Phillies, outslugged the Phillies, gotten on base better than the Phillies, run the bases better, played better defense. The Cardinals, second to last in the league in stolen bases this year, have twice as many stolen bases as the Phillies. Were it not for an aberrant hanging curve in game 3, the Cardinals would be in the NLCS.
It won't be easy. Roy Halladay's one of the top three pitchers in baseball right now, but he's not unbeatable. Hell, the Cardinals beat him three weeks ago. In Philadelphia. They would have beaten him twice this season had the bullpen not imploded the first game.
The Cardinals are more balanced. Nine players have contributed RBI; of the Phillies 20 RBI, 85% of them are from four players. Game 4 aside, Albert Pujols is mashing the ball, with a pretty solid .412/.444/.588 line; on top of that, he made the defensive play of the series in game 4. Every player up and down the lineup has contributed offensively. The Phillies? Other than Chase Utley and Jimmy Rollins, none of their players with more than two at bats is hitting .270.
Bear down, boys.
You may not see it, but the eyes of Cardinal nation are upon you.
You may not hear it, but the voices of Cardinal nation are rooting for you; even the softest voice, when combined with others, can turn into a deafening echo.
You may not feel it, but the ghosts of Cardinal nation past are with you, guiding you along the way, waiting to embrace you at the end.
You may not taste it, but there is a $#!+ ton of celebratory Budweiser waiting on ice for you.
And so I (we?) ask of you.
Knock Halladay out so quickly he has to pay the Phillies rent for staying in the clubhouse all night.
Remind Chase Utley of the fact that he hit a whopping .259 in the regular season.
Give Ryan Howard a head start on making more obnoxious Subway commercials.
Remind the Phillies they are in fact, the losingest franchise in professional sports, the first team to lose 10,000 games.
Curious which team handed them their 10,000th loss?
That's what I thought.
11.
10.
9.