Gaelic Storm Looks to Rock Your Chicken Boxers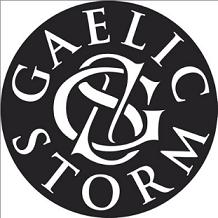 Some of my favorite bands people have heard but simply don't realize the fact. For instance, I tell people one of my favorite bands of all time is Toad the Wet Sprocket. People hear the name and usually ask, "Who?" When I play one of their singles, though, the typical response is, "Oh, I didn't know this was them." Yep.
Along those lines, Gaelic Storm is a band that almost everyone in my generation has heard, but most people don't realize. Back in 1997, when Titanic was dominating theaters everywhere, Gaelic Storm was quite literally rocking the boat.
"Who? When were they in the movie? I don't remember them," you may be saying. Remember the scene after the formal dinner gathering, when Jack takes Rose down into his danger zone to show her a "real party"?
Yep, there's a nascent Gaelic Storm, rocking "The Hills of Connemara," a traditional Irish folk drinking song. Not bad for a band that wasn't even around two years before the film came out.
Whereas most bands take years to formulate their sound and get a crack at the big time, Gaelic Storm's career-defining moment came out of left field. "It was one of those ridiculous LA moments where someone walks up to you and says, 'Hey do you want to be in a movie?'" insists Steve Twigger, one of the lead vocalists who also plays a range of instruments, including guitar and mandolin. "The musical director had been searching LA for some talent for the film and somehow he stumbled upon us.  After the festival he came to O'Brien's Pub in Santa Monica where we had a weekly gig and that's where he really saw the party.  Basically, he reported back to  [director James] Cameron and said, 'All we have to do is recreate what I saw in the pub and that scene in the movie will be a success.'"
Originating as a band that played in local pubs and music festivals, the band used the film's success to catapult onto the global music scene. Gaelic Storm just put the finishing touches on their eighth studio album, titled "Chicken Boxer." Twigger calls it his band's most significant to date. "It's a bit more retrospective than previous records, I must say. It really encompasses who we are right now as a band," he says. "Both musically and individually I felt like everyone of us in the band were able to translate our personalities into these songs." The album is the fourth Twigger has also produced; although he had a hand in producing several of the band's earlier albums, he's listed as producer on the last four albums, beginning with "Bring Yer Willies."
They must be doing something right, because they've built a loyal fanbase across the globe. Selling more than a million albums, their last three albums have debuted at the number one spot on the Billboard World Music charts. In addition, the band has an aggressive touring schedule, playing more than 125 gigs in various locales every year. Twigger names a few cities such as Minneapolis and Cleveland ("those are some crazy fans that certainly know how to throw a party," he adds) as being memorable stops, but cites Chicago as being his personal favorite.
"There are just so many great memories that we've had there," he smiles. "The venues have been some of the coolest that we have come across, from the House Of Blues, to the Pavilion in Grant Park." Other bandmates might tend to agree, as three of them have found their significant others while performing in Chicago!
One of the band's more amusing challenges involved trying to sing complete gibberish. Any casual computer gamer will recognize the mega-popular The Sims 2, which allows the player to cast him/herself in a virtual reality. One of the expansion packs for the game, title Bon Voyage, featured one of Gaelic Storm's songs, "Scalliwag." Normally this wouldn't be a huge problem, except the language in the game, called Simlish, is literally spoken nonsense.
Go ahead. Try and translate that. We'll wait.
"You should have seen us cracking up in the studio.  It took such a long time, I mean, I swear, every other take involved myself and Pat just laying on the floor in fits," Twigger explains. " I don't know how we got through the recording session, but in the end the track sounded great, and quite similar to how we sound leaving the pub at 3 in the morning."
Nowadays, Gaelic Storm is brimming with confidence, but Steve admits that, like many young bands, that hasn't always been the case. When pressed for the best piece of musical advice he ever received, he points to a music festival in Milwaukee just after the release of Titanic. "We had gotten a lot of press from the movie and we were kind of 'rising stars' at the festival, and of course with that comes some animosity from other bands," he says. "We heard that some of the other musicians were talking behind our backs because they thought our success wasn't deserved." Steve lamented this was even more difficult to handle because Gaelic Storm were actually big fans of some of their most outspoken critics.
Still, he points out, there was a silver lining, one which the band refuses to let recede out of their sight and has in fact become the focal point of one of their newest songs, "One More Day Above the Roses."
"Well, we sat down with Paddy Reilly from the Dubliners and relayed some of our woes, and he just looked at us and said, 'F#*% the begrudgers.' Since then we have used that mantra on a daily basis."
For more information about Gaelic Storm, click here.