FX's "Wilfred" Mid-Season Review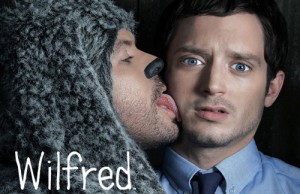 "Wilfred" is a show based around the life of Ryan (Elijah Wood), who is an unemployed slacker with a law degree and in a very depressing time in his life. Enter into the scene Wilfred (Jason Gann) who is a dog to everyone but Ryan, who sees Wilfred as a human in a dog costume. Ryan immediately develops emotional feelings for Wilfred's owner Jenna (Fiona Gubelmann) and in an attempt to get closer to her he develops a friendship with Wilfred. This leads him down a path of no return with the drug loving pup, who drinks, and smokes cigarettes, and has no remorse for the sometimes awful things that he does.
For  example, in the pilot episode, entitled "Happiness", Wilfred convinces Ryan to break into his neighbor, Spencer's (Ethan Suplee), house to steal the supply of illegal narcotics that he has stashed in his basement. As they are leaving Wilfred snags Ryan's wallet and leaves it at the scene of the crime, which leads to a confrontation between Ryan and Spencer in a later episode. Another example of Wilfred's evilness is seen in the episode entitled "Respect" where Ryan volunteers at a hospice and brings Wilfred along for the ride. Wilfred is seen as a angel of death when he starts to be at the side of people on their death beds…..oh later you find out that when someone wouldn't die Wilfred is caught, by Ryan, suffocating a woman to death.
So far, at the half way point of the season, "Wilfred" has had me completely captivated, and I didn't know going in that the life of a dog could be so interesting. I will fully admit that I was extremely skeptical of the show when I first saw that it was coming to America (it first aired, with a somewhat different cast (Jason Gann held the Wilfred role) in Austrailia).
In the latest episode, entitled "Conscience", Ryan comes face to face with his demons as he is pushed into attending a Cookout (of BBQ) with the boyfriend of his "crush" Jenna. As he is attending the event he learns as much as he can about Drew (Chris Klein), so he can eventually break that relationship up, with the encouragement of Wilfred of course. He finds that Drew is extremely competitive and uses that to his advantage when he challenges him to a ping pong match, Ryan was all state in high school. Jenna doesn't approve of Drew's competitiveness and has warned him about how he gets in a competition and when she sees this she immediately does not approve. Ryan then learns that Drew is also very talented in the game of ping pong.  As the game continues, Jenna keeps getting more and more upset since her and Drew were set to attend a play and they are now a half an hour late. So, she tells them that their tied game has to end and the next point wins no matter what, and with that Drew goes on to win and in the midst of his celebration she breaks up with him.
Now you would think that Ryan would be ecstatic about the occurrence but he starts feeling guilty when Drew visits his house and pours his heart out to Ryan, and Ryan works out a plan to get them back together.
With the success of "Wilfred" (highest rated first season for any FX comedy) and the creative writing styles of Jason Gann, Adam Zwar, David Zuckerman, and many others, this comedy is poised to have a long and lustrous lifetime in the FX family. Now I will note that "Wilfred" is rated TV-MA so it is recommended for adults.
Let me know your opinion of the show thus far and how you think it will develop.