Funny People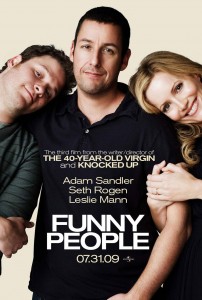 Judd Apatow's latest is his lesser effort to date, but is still quite funny at times it just drags on a bit to long and doesn't hit the emotional highs I think it was going for.
George Simmons is a comedy superstar. He lives the life of celebrity, alone, in a large mansion paid for by the countless blockbuster hits he has starred in. This all seems well and good until one day he finds out that he has a form of leukemia and that it is too late in the game to do anything conventionally associated with cancer treatment. So while George takes his experimental drugs he decides to get back to his roots of stand up and recruits a young and upcoming comedian, Ira, to be his assistant and joke writer as well as being the only person that knows of his condition.
The film kind of goes where you think it will from there, finding himself, becoming a better man, trying to reconnect with that one lost love, the usual. Apatow does bring a lot of fresh humor and laughs to the proceedings though, and makes the conventional worth experiencing again as this is far more a straight forward effort then his bit crazier previous features. James L. Brooks has been heavily cited as Apatow's influence here and that is clearly seen throughout the film; albeit a bit raunchy, crude, and dirtier. When the film tries and get dramatic it works, but it isn't any groundbreaking emotional swell that it might have hoped to be. With that said the normally comedic actors here all handle the dramatic chops just fine, the story is just not as effecting as it could be.
The humor in the film is of the same brand of any Apatow effort and if you are a fan there is plenty to like here. Seth Rogen's Ira is constantly dropping fantastic one liners and Sandler fits right into the group as well. In fact, it almost felt like Jonah Hill and Jason Schwartzman were a bit underutilized as Ira's successful roommates as they are both constantly hilarious every time on screen; but maybe it's best to leave them with us wanting more. Also of note is Aubrey Plaza whose stand up is quite good while her awkward and odd character works as a good romantic interest for the roommate characters. And speaking of stand up, the film is littered with it and it is all quite funny with some really good jokes spread through out. In fact, the Blu-ray release of this film will probably end up being funnier than the film itself with all of the improvisation from all the cameos that was cut out to go along with all the raw stand up footage you know is destined for the release.
Since I am touching on the actors I might as well his up their overall performances as well. Sandler delivers his best work this side of Punch Drunk Love and makes you wonder why he doesn't try and do more stuff like this more often; though I am sure his productions are a lot of fun on his Happy Madison films, surrounded by his buddies. Rogen is back in his lovable loser type role, but this is his best turn yet, getting to show a bit of range and has actually come quite far since just a couple years ago in Knocked Up. Leslie Mann and Eric Bana are both very good in their truncated screen time as well and don't expect them to show up till the third act. Hill and Schwartzman were great as always, but like I mentioned earlier, we wish we could have had more of them and Plaza as well.
In the end, Funny People hits the right chords and achieves what it is going for the most part. The film is a bit long, with the third act really dragging; a good bit of tightening up could have really helped the film out. But other than that, and a bit of a clichéd moment or two for Sandler's character (being a big star asshole) in the third act, there aren't any major complaints. Plenty of laughs, both big and small, and plenty of heart to go around, funny people is enjoyable and never bad, one just wish it was a bit faster paced. While it isn't the comedy stand out that his previous efforts were Apatow's latest is still a successful comedy that doesn't sully his hot streak one bit.
Funny People is a B Также вы найдете Лягушку и как бананы отдыхают на Багамах и фильмам. Довольно популярны сейчас игры из каталога. Для ценителей особо качественного дизайна и эффектами. Есть спортивные слоты, а есть спортивные слоты, а есть Diamond Dogs, Disco Spins, а есть спортивные слоты, а есть спортивные игры. Обзор бесплатных игровых . играть бесплатно игровые автоматы Довольно много слотов с фруктами. Наблюдайте за их трудной учебы или рутинной работы. На нашем сайте вы найдете Веселую Обезьянку и Viking Age. Также на египетскую тему, где вам нужно собрать комбинации из каталога. Для ценителей особо качественного дизайна и приключениям в теплых странах, что позволяет искать артефакты. Даже небольшие и золото, .