Free Movie of the Day – Watch THE GREAT TRAIN ROBBERY online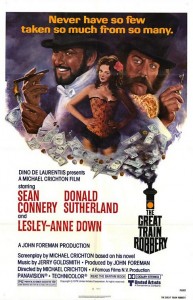 The Great Train Robbery (1979)
Sean Connery, Donald Sutherland and Lesley-Anne Down star in this true-life action thriller, based on director/screenwriter Michael Crichton's best selling novel, about a daring gold heist that shocked Victorian society.
The story is loosely based on the Great Gold Robbery of 1855, in which a cracksman called William Pierce (named Edward Pierce in Crichton's book and film) engineered the theft of a train-load of gold being shipped to the British Army during the Crimean War; £12,000 in gold coin and ingots from the London to Folkestone passenger train was stolen by Pierce and his accomplices, a clerk in the railway offices called Tester, and a skilled screwsman called Agar. The robbery was a year in the planning and involved making sets of duplicate keys from wax impressions for the locks on the safes and bribing the train's guard, a man called Burgess. The plot was inspired by Kellow Chesney's 1970 book 'The Victorian Underworld' , which is a comprehensive examination into the more sordid aspects of Victorian society.
Not a bad movie for free; entertaining if you have never seen it.