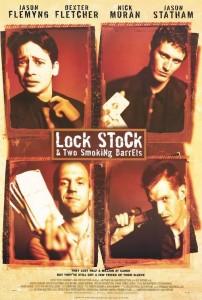 Watch Lock, Stock and Two Smoking Barrels (1999) Online, for Free!
A collection of law-dodging characters in London are brought together by coincidence when a streetwise young man loses half-a-million pounds in a card game. He has a week to get together the money or face losing some fingers. Desperate, he and his friends decide to rip off a gang who are planning to rip off a bunch of ganja farmers. Simple. Except the drug dealers want their money back, as do the theives, and now there are three sets of criminals after their blood.
Lock, Stock and Two Smoking Barrels is written and directed by Guy Ritchie.