FOX's "American Idol" Results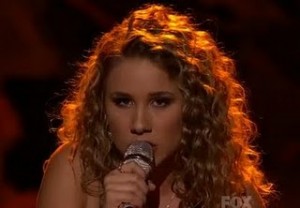 American Idol Results (5/19/11) by Jeff Siler
Okay I'm going to keep this short and simple.
WHAT THE HELL WERE YOU THINKING AMERICA!!!!
You just voted off the only original voice, Haley Reinhart, (pictured left in the competition) and now we are going to get a Finale featuring nothing but Unoriginal Country Artists who will have no future in the music business what so ever. Haley and James will both, single handedly, sell more individual albums than Lauren Alaina and Scotty McCreery combined. I'm going to go out on a limb and say neither Scotty or Lauren (edit: I accidently put Haley or James earlier) will be remembered within a year. I'm thinking whoever wins will probably be doing songs with Ruben Studdard, Taylor Hicks, and possibly Lee Dewyze.
With all that being said, I'm going to regret it, but I will still watch the Finale, which is on next Tuesday. Whoever wins is no longer relevant, to me, so I'm just watching to make fun of them for the artist that they are. I am looking forward to the actual Finale on Wednesday though. Idol always does some cool things with the Results Finale so I'm hoping that the show doesn't let me down…..unlike my country!!!!!