FOX Picks Up Second Season of 'Glee'
No surprise here. When a show has income outside of its TV ratings like Glee has, you know a network will hold onto it. It has been shown that these kids sell CDs, and they have decent ratings. The ratings aren't huge, but with certain demographics they are monsters. I'm a fan of the show, and I'm glad to know it will be sticking around. These days there is always a bit of uncertainty if your favorite shows will stay on the air. So, congrats cast of Glee!
Here is the press release from FOX: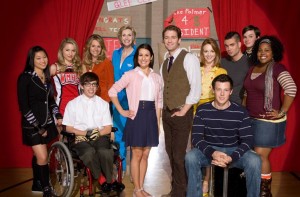 FOX has ordered a second season of the genre-defying comedy GLEE, it was announced today by Kevin Reilly, President, Entertainment for Fox Broadcasting Company. GLEE has become a bona fide cultural phenomenon boasting winning ratings, critical acclaim, a rabid fan base of "GLEEks," two certified Gold albums and more than 4 million song downloads. The series has received four Golden Globe nominations, including one for Best Television Series Musical or Comedy; a Screen Actors Guild nomination for Outstanding Performance by an Ensemble in a Comedy Series; two Directors Guild of America Award nominations; and a Writers Guild of America nomination for Best Comedy Series and Best New Series. Additionally, the American Film Institute named GLEE one of the Top 10 TV Programs of the Year, and the series also recently won a People's Choice Award for Favorite New TV Comedy.
"We've loved GLEE ever since it was a pilot script, so it's been an incredible thrill to watch the show take root and see audiences embrace these characters in such a huge way this season," said Reilly. "The show is a true and rare gem in television. We couldn't be more proud of what Ryan Murphy and the GLEE team have created so far, and can't wait to see what they come up with for Season Two."
GLEE has also launched the acting and singing careers of its young, talented cast, and turned them into international sensations. Replicating and expanding on the process used to discover the stars from Season One, the series' executive producers will begin a nationwide casting search this February to fill three new roles that will be added to the show's second season.
Building upon the show's incredibly supportive community of GLEEks and with the hope of bringing fans even closer to the series, auditions will be open to amateur individuals as well as professionals between the ages of 16-26, and all hopefuls will be able to submit auditions online. Additional details to be announced soon, please check www.fox.com/glee for updates.
This unique casting search and process will be chronicled in a multi-part special that will air leading up to the premiere of the series' second season in fall 2010 on FOX, and the new cast members will be revealed in the premiere episode.
"GLEE has always been about finding new fresh exciting voices. Our second season search for young talent will be in the vein of our first season. We launched a nationwide search for talent for our first season with great unexpected results, and Season Two expands that search in an even bigger way," said executive producer and creator Ryan Murphy. He added, "Anybody and everybody now has a chance to be on a show about talented underdogs. No matter who you are a Broadway talent or a struggling singing waiter with a dream in the Midwest you now have an opportunity to make that dream come true by posting your talent video and showing us what you can do. ALL the roles will be chosen from the video audition process, which is exciting and unprecedented. We want to be the first interactive musical comedy on television, and the search is ON."
"GLEE is the hottest new show of the season, and it's amazing to look back at the audition tapes of those stars as they were being discovered," said Mike Darnell, President of Alternative Entertainment for FOX. "Just like GLEE, there's never really been an unscripted program like this on television before. The stakes are real, and it's going to be incredibly compelling to watch the lives of these unknowns transformed before our eyes."
GLEE returns with all-new episodes on a new night beginning Tuesday, April 13 (9:00-10:00 PM ET/PT) on FOX.
GLEE follows an optimistic teacher who against all odds and a malicious cheerleading coach inspires McKinley High's Glee Club to conquer the world one singing competition at a time. GLEE stars Dianna Agron, Chris Colfer, Jessalyn Gilsig, Jane Lynch, Jayma Mays, Kevin McHale, Lea Michele, Cory Monteith, Matthew Morrison, Amber Riley, Mark Salling and Jenna Ushkowitz.
GLEE is produced by Ryan Murphy Television in association with 20th Century Fox Television. Ryan Murphy, Brad Falchuk and Ian Brennan are co-creators of the series. Murphy, Falchuk and Dante Di Loreto serve as executive producers, while Ian Brennan serves as co-executive producer.