FOX comitted to 'The Cleveland Show' until 2011
The Cleveland Show is performing so well, that a full second season has been ordered. Due to the time it takes to animate, orders for shows like this come a lot quicker.  If you are a fan of The Cleveland show you are guaranteed to see at least 44 episodes produced. The show has been surprisingly (to me) a hit. It continues to get solid ratings every night it airs. So, if it continues you could be seeing many more seasons of the show.
From Variety.com
---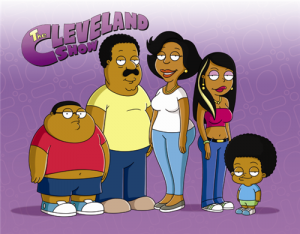 Fox has committed to its "Family Guy" spinoff, "The Cleveland Show," through at least mid-2011.
The network Wednesday gave a back nine order to "Cleveland's" second season, which is already under way (due to the long lead time necessary for animated series).
Fox had earlier picked up a full first season of "Cleveland," and more recently gave a greenlight to season two's first 13 episodes. Pickup now brings the show's total tally to 44 — even though just three segs have aired so far.
Net execs were likely bullish on the fact that "Cleveland" is so far the fall's top-rated new series among adults 18-49 (beating out "NCIS: Los Angeles").
Since its Sept. 27 bow, "Cleveland" has averaged a strong 4.5 rating and 11 share among adults 18-49, and 9 million viewers overall. Show has proven to be a solid bridge between "The Simpsons," from which it's been building audience, and "Family Guy."
"I'm a bit speechless," said "Cleveland" exec producer Mike Henry, who also voices the show's lead character. "From what I can tell, being able to build on 'The Simpsons' and serving up a nice base for 'Family Guy' to build on seems to be what they were looking for."
Henry said the show's writers are already working on the ninth episode of season two — timed for Christmas 2010. Holiday-themed episode, which will be performed at a table read today, will feature guest star Carl Reiner.
The scribe said he's actually been frustrated by watching the early episodes of "Cleveland" now hitting the air.
"I know how far the show has come," Henry said. "The stories are tighter as we go along, and the jokes are funnier. In later episodes we don't have to work as hard to establish who's who."
Meanwhile, Henry said he's putting the finishing touches on a holiday-themed single performed by Cleveland with R&B supergroup Earth, Wind and Fire. The song, "Get Your Hump on This Christmas," will be released on iTunes and sent to radio stations later this fall.
"The Cleveland Show" follows soft-spoken "Family Guy" character Cleveland Brown as he moves to Virginia with his son and reunites with his high school sweetheart, who has two unruly kids of her own.
20th Century Fox TV is behind the show, which comes from exec producers Seth MacFarlane, Mike Henry and Rich Appel. Henry supplies the voice for the lead, while other voice stars include Sanaa Lathan, Reagan Gomez-Preston, Kevin Michael Richardson and MacFarlane.
---
I'm not a huge Family Guy fan, but I can't help but have a grudging respect for Seth MacFarlane. He's got to be one of the busiest people in animation today. He has three series he has to juggle, and does voices on all three. Although, I'm sure he's compensated well enough. It looks like Fox's Sunday nights are going to stay a powerhouse for a while now.