Flashback Movie Review: The Shadow (1994)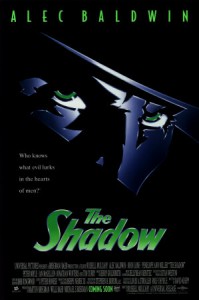 In my opinion, the 1994 movie "The Shadow" starring Alec Baldwin is horribly underrated. Take into account that I never read any pulps or heard any of the radio serials so I don't know if the movie stayed true to the source material, but I think it is a very fun film. Well for those of you who do not agree with me and did not enjoy the film, you have something to look forward to.
20th Century Fox now owns the rights to the character "The Shadow," and are looking to make a new movie. A number of different directors have been attached to this project. Sam Raimi was looking to make this his next project after Spider-Man fell through for him. Then, David Slade was attached eyeing a 2012 release. Now we have a new name in the mix that is slightly more interesting.
Quentin Tarantino is now the big name tied to the project. It is being said that he is either officially attached or in negotiations to both re-write the script and sit in the director's chair. I am not the biggest Tarantino fan, but there are plenty of people that are. It would certainly be an interesting take on the character. This is still all in the rumor stage so time will tell what happens with this project.
What did you think of the '94 The Shadow? Are you a Tarantino fan? What do you think about the possibility of this project? Let us know in the comments below.