First Official Look at Lisbeth Salander in Fincher's "The Girl with the Dragon Tattoo"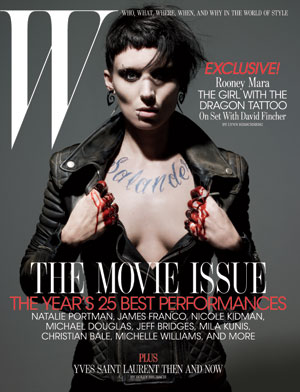 This is certainly not our first look, but it is the first clear look.  I was nervous about Rooney Mara in the role when I first heard the news, but I think she certainly looks the part.  She turned in nice work in The Social Network, but I thought she was flat and one dimensional in the A Nightmare on Elm Street remake.  I am sure Fincher will be able to bring out the best in her for the role.
As for the film, I love the Swedish adaptation so I don't think it is exactly necessary to remake.  But neither was Let the Right One, and while Let Me In was not groundbreaking, I did enjoy it.  Hopefully this will be the same.  Fincher will certainly have a good two years.  Many are saying Fincher will win the Oscar for directing The Social Network.  Couple that with a high profile film like this, and he will be a busy, highly profiled man in Hollywood.
The Girl with the Dragon Tattoo hits theaters December 21, 2011.  The synopsis follows:
A journalist-turned-detective and his female associate get tangled up in the underworld when he is hired to write the saga of a powerful family.
These images are featured in the upcoming issue of W Magazine which will also include an article about the film.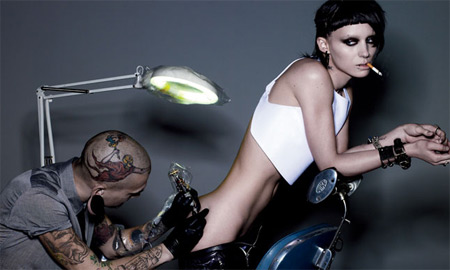 How do you think Rooney Mara looks as the character?  Let us know in the comments below.