First "Fast Five" Trailer Starring Vin Diesel, Paul Walker, and Dwayne Johnson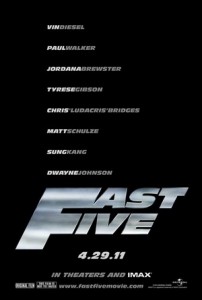 I think the Fast and Furious franchise is a lot of fun.  This trailer looks like it is giving fans more of the same.  Fast cars.  Ridiculous stunts.  And bad acting.  It's nice to have so many actors from the past films return, while also adding the awesomeness of Dwayne Johnson.  Do I think the film will be good?  Probably not, but I am sure it will be a lot of fun.
Synopsis: Dominic and his crew find themselves on the wrong side of the law once again as they try to switch lanes between a ruthless drug lord and a relentless federal agent.
Starring: Vin Diesel, Paul Walker, Dwayne Johnson, Tyrese Gibson
Directed by: Justin Lin
Release Date: April 29, 2011
[hdplay id=236 width=595 height=375]