Father's Day Home Run
In my rush to get things done at work and play softball yesterday, I forgot to mention this. I read about it Sunday night and thought it was an excellent story, and a lot of people have picked up on it. Not gonna lie, I teared up quite a bit as I read about it, and even a bit as I wrote this.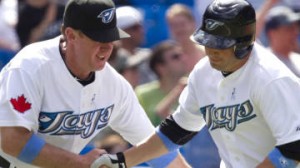 John McDonald is a utility infielder for the Toronto Blue Jays. Not a spectacular player, but by all accounts a good guy. Last Tuesday, his father Jack succumbed to cancer after an eight month battle. During one of their last conversations before he died, Jack told his son, "Hit your next one for me." Not really an easy feat for a man who's hit a grand total of 14 home runs in 1,758 career at bats.
Before the game Sunday against San Francisco, his first game back since the funeral, McDonald's teammates gave him a jersey signed by all of them with the number 25, the number Jack had worn while working as an amateur umpire and referee. A gesture that, in itself, can make even the toughest guy emotional.
The story doesn't end there.
Ninth inning comes around, and McDonald's put into the game as a defensive replacement. Cito Gaston, the Toronto manager, knew he had to get John in the game at some point. When the Jays bat in the bottom of the inning, they're down 9-3. With Fred Lewis on second, McDonald swung at the second pitch and lined it over the left field wall. As he rounded the bases, you could tell the tears were welling in his eyes. As he touched the plate, he pointed to the sky. When he reached the dugout, his teammates went absolutely nuts. He hugged Vernon Wells for a good thirty seconds as they cried together.
When asked later what he was thinking as he circled the bases, he said, "Probably the fact that I couldn't call my dad after the game to tell him."
Much like Dallas Braden pitching a perfect game on Mother's Day after he'd lost his mother to cancer as a teenager, this is one of the truly remarkable stories of the year, at least in my opinion. Toronto eventually lost the game, but at that point, I don't think the final mattered. Baseball's become commercialized at the professional level, but at its heart the core of the game will always be summer nights in the backyard, a father and son playing catch. For an instant, this moment was captured by a benchplayer that transcended the accomplishments of the superstars for a day. It was one of those moments that shows us baseball can be more than just a game; it can be a chance to learn.
To move on.
To heal.
To remember.
If you want to see the video of the home run, go here: http://mlb.mlb.com/video/play.jsp?content_id=9201989&topic_id=8878984&query=%26game_pk%3D264849