"Faster" Teaser Trailer Starring Dwayne "The Rock" Johnson, Billy Bob Thornton, and Maggie Grace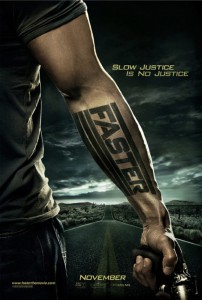 Call me crazy, but I've been saying for years now that Dwayne Johnson has the right stuff to become a great action star. That is why I get so disconcerted when he chooses roles like The Tooth Fairy. He has proven in other films such as The Rundown that he is capable of doing great action scenes, maintaining great comedic timing, and striking good chemistry with his co-stars. That is why I was so happy to see this teaser. Sure, it might be another run of the mill action film, but it looks like it might be great fun to watch. As much as I'd like to see more films like Inception, I'll take a smart action film that is self-aware to its faults.  This looks like the perfect "high octane thrill ride" (to use a Pete Hammond style quote). I'll save my full judgment until the full trailer hits, but right now this film has caught my interest.
Synopsis:
After 10 years in prison, Driver has a singular focus – to avenge the murder of his brother during the botched bank robbery that led to his imprisonment. Now a free man with a deadly to-do list in hand, he's finally on his mission… but with two men on his trail – a veteran cop just days from retirement, and a young egocentric hitman with a flair for the art of killing and a new found worthy opponent. The hunter is also the hunted. It's a do or die race to the list's finish as they mystery surrounding his brother's murder deepens, and new details emerge along the way hinting that Driver's list may be incomplete.
Starring: Dwayne Johnson, Billy Bob Thornton, Maggie Grace, Moon Bloodgood, Carla Gugino
Directed by: George Tillman Jr
Produced by: Martin Shafer, Joe Gayton, Dara Weintraub
Release Date: November 24, 2010
[hdplay id=59 width=595 height=375]