Fame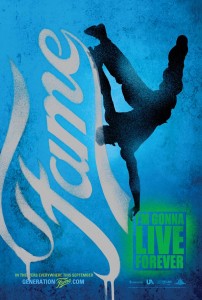 With the huge popularity of Disney style musicals such as High School Musical, it seemed it was time for a comeback to the story that started them all, Fame. Unfortunately, for those of you who were hoping for the high notes hit by the original, prepare to be disappointed.
Fame follows seven students through their years at the esteemed New York Academy of Performing Arts where they will hone their craft, and put themselves on the road to stardom. The film follows their highs and low, and peppered in are singing and dancing that will sure to get your toe tapping.
I'd tell you about the characters, but that is where the main problem in this film occurs. The film weaves in and out of plot lines with its many characters, none of the time maintaining a bond with our characters. The characters are set up and followed so poorly that one would assume that this was meant for a television pilot and not a feature film. In addition to the main student characters, we have a handful of underdeveloped and underutilized teachers. The teachers are luckily the bright spot in the acting. Kelsey Grammer, Charles Dutton, and Megan Mullally all give good performances that show case their wisdom as mentors. The best of these being the performance of Mullally who gets a bit more screen time with a song number of her own in a karaoke scene. The best moment comes after when she tells her students that she gave up on fame, and while not sure she had it but always hoped. It was in that moment that I wish more of the film had that tone.
Of the teen actors only three of the actors stand out, Naturi Naughton as the quiet pianist who is wanting to let her bombastic tones out, Kay Panabaker as the quiet, not quite sure she belongs there Jenny, and Collins Pennie the troubled youth who is short on temper and long on talent. Everyone else seemed to be throwaway characters. They all have their own storylines, but many of them are so neglected, by the end of the film you are still wondering why we wasted any screen time on them at all. This film could have (maybe) been salvaged if they had insisted on more focus on a tighter band of characters.
Although the film does succeed in one area, the music. This should come as no surprise, first time feature director Kevin Tancharoen is most known for his work on music videos for people such as the Pussycat Dolls and Britney Spears, and it really shows here. Each number is really an encased music video that could be removed just for that purpose. Even if they don't seem to serve the purpose of the story much, you still hold your breath for every moment when the singing and dancing will commence again. This is a major problem at the same time. Tancharoen seems to be so focused on the music that he entirely forgets the story aspect. It seems that it might have been in his best interest to keep in the short confines of music videos.
Fame is a hit or miss effort. If you are a fan of musicals, and are really just looking for some young talent, then by all means this is a great film for you. Although, if like me you were hoping for a touching story and multi-dimensional characters prepared to be disappointed. Either way you'll have fun watching the dancing and the singing. Depending on which category you fall into, it will decide if it is a rental or something to pay full admission to.
Grade: C