FAIR GAME Opens November 19! Enter to Win Passes to the St. Louis Advance Screening!
FAIR GAME Opens November 19 NATIONWIDE.
Enter for your chance to win a pass, good for two!
Synopsis: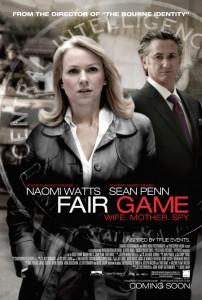 As a covert officer in the CIA's Counter-Proliferation Division, Valerie Plame leads an investigation into the existence of weapons of mass destruction in Iraq. Valerie's husband, diplomat Joe Wilson, is drawn into the investigation to substantiate an alleged sale of enriched uranium from Niger. But when the administration ignores his findings and uses the issue to support the call to war, Joe writes a New York Times editorial outlining his conclusions and ignites a firestorm of controversy.
Starring: Naomi Watts, Sean Penn, Noah Emmerich, Liraz Charchi, Nicholas Sadler
Directed by: Doug Liman
In order to enter the contest, become a fan of ReviewSTL on Facebook and suggest ReviewSTL.com to all your friends (click the "suggest to friends" link on the left side of the page). Then post a comment on the ReviewSTL fan page telling us why you want to see the movie! NO PURCHASE NECESSARY. PLEASE REMEMBER TO READ THE RULES!
SCREENING IS THURSDAY, NOVEMBER 18.
Good luck! We hope to see you at the movies!
[hdplay id=199 width=595 height=375]