Explore the Sights and Sounds of the Amazon with the RIO 2 Tour, Coming to St. Louis (July 12)
RIO 2 is on Blu-ray, DVD and Digital HD July 15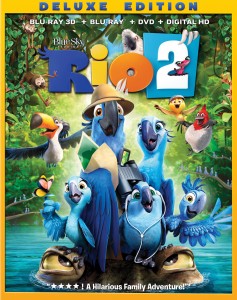 Join the fun this Saturday, July 12 at the St. Louis Galleria from 1-6pm!
Twentieth Century Fox Home Entertainment brings the party to the people with its cross country RIO 2 Summer Party Tour. Families will have plenty of reason to shake a tail feather down to the tour; it's full of interactive activities for all ages including portable viewing stations to watch soccer games, live from Rio; screenings of RIO 2; Samba performances and lessons; customizable Carnival masks; soccer challenges, and much more! All guests can also turn their fun into a global sensation by joining a cross country karaoke from the party via the sing- and dance-along photo booth.
With the Blu-ray/DVD and Digital HD release right around the corner, Fox Home Entertainment will bring the party from the Amazon this summer with a bunch of family-friendly fiestas across the country. You can find the Summer Party Tour any time of day, check out pictures from the tour, follow the GPS enabled tour bus, and explore all sorts of RIO 2 goodies at www.rio2summertour.com. Follow the tour on social media with #rio2summertour.