EXPENDABLES 2 Plot and Poster Revealed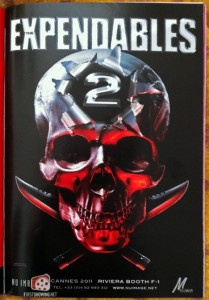 I saw THE EXPENDABLES, and I thought it was fun, but I was expecting a little more.  I am not sure why I was expecting more.  It's a film directed by Stallone and starring the who's who of B-movie action stars.  Realistically, it was destined to be a straight to DVD classic.  But it got a theatrical release and it made enough to warrant a sequel. 
For months fans have been waiting to hear who will return and who will join the cast of action heroes.  Today I give you your first look at a teaser poster for the film as well as a somewhat spoilery plot synopsis.  Now, I say it's spoilery now because we know nothing about this.  But I imagine everything you read below will be featured in the trailer once it hits.
The Expendables are back and this time it's personal! After Tool (Mickey Rourke), the heart and soul of the Expendables, is brutally murdered on a mission, his comrades swear to avenge him. They're not the only ones who want blood. Tool's beautiful young and wild daughter Fiona embarks on her own revenge mission, complicating matters when she is captured and ransomed by a ruthless dictator plotting to destroy a resistance movement. Now Barney and the Expendables must risk everything to save her and humanity.