EVIL DEAD – THE MUSICAL Makes St. Louis Debut Oct. 12-22! Win a Pair of FREE Tickets!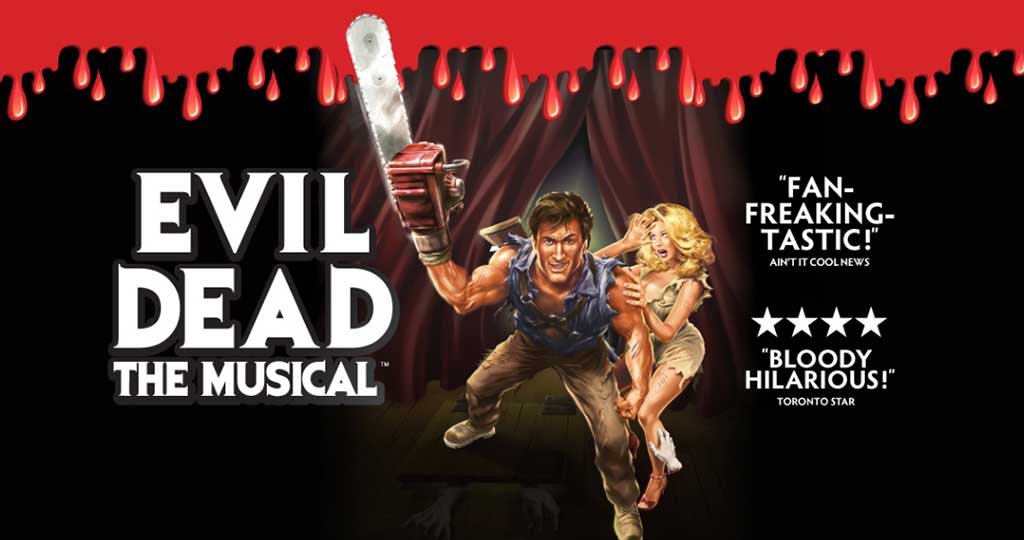 Emery Entertainment, Inc. presents the St. Louis debut of the wildly popular cult classic Evil Dead – The Musical at The Grandel Theatre for a limited two-week engagement!
The Winner of the 2007 Dora Audience Choice Award for Toronto's favorite show, Evil Dead – The Musical is the hilarious and outrageous story of five college friends spending the weekend in an abandoned cabin in the woods after accidently unleashing an evil force that turns them all into Candarian demons.
The "Splatter Zone," located within the first three rows of seating, is for super fans who can't get enough of blood "splatter" during their favorite scenes of death and destruction in the woods. Audience members in these seats are covered in fake blood as part of the 'real-life' effects that take place during scenes in the show. In addition to some dismembered limbs, demons telling bad jokes and catchy tunes ("Look Who's Evil Now," "All the Men in My Life Keep Getting Killed by Demons"), the show features a saucy combination of wit and sexual innuendo that keeps audiences laughing.
Evil Dead – The Musical's book and lyrics are by George Reinblatt, with music by Frank Cipolla, Christopher Bond, Melissa Morris and George Reinblatt. Musical supervision by Frank Cipolla and additional lyrics by Christopher Bond with additional music by Rob Daleman.
Enter to win a pair of tickets to see Evil Dead – The Musical!
All you need to do in order to enter the contest is comment below, with your favorite line from any of the Evil Dead films!
Don't miss EVIL DEAD – THE MUSICAL when it makes its St. Louis debut October 12-22 at the Grandel Theatre! For tickets or more information, visit MetroTix.com or evildeadthemusical.com.