'Escape Plan' opens October 18! Enter to Win Passes to the St. Louis Advance Screening!
Enter to win a pass for two!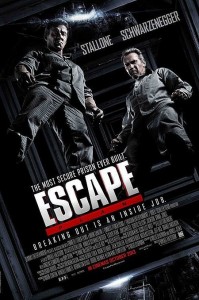 One of the world's foremost authorities on structural security agrees to take on one last job: breaking out of an ultra-secret, high-tech facility called "The Tomb." Deceived and wrongly imprisoned, Ray Breslin (Stallone) must recruit fellow inmate Emil Rottmayer (Schwarzenegger) to help devise a daring, nearly impossible plan to escape from the most protected and fortified prison ever built. ESCAPE PLAN is the first pairing of action legends Sylvester Stallone and Arnold Schwarzenegger in leading roles.
Cast: Sylvester Stallone, Arnold Schwarzenegger, Jim Caviezel, Curtis "50 Cent" Jackson, Sam Neill, Vinnie Jones, Faran Tahir, Vincent D'Onofrio, Amy Ryan
Director: Mikael Hafstrom
Escape Plan opens Friday, October 18!
Use the contest app below to "like" ReviewSTL on Facebook – then tweet, share, or comment for additional entries!
Winners will be chosen at random from all entries. Supplies are limited. Limit one (1) pass per person, passes admit (2) two. Sponsor's employees and their dependents are ineligible. Screening is overbooked to ensure capacity. Please refer to passes for any other possible restrictions. NO PURCHASE NECESSARY.
Screening will take place Tuesday, October 15 at 7PM at Wehrenberg Des Peres 14 Cine (7pm).