Cardinals 2013 Regular Season Wrap-Up: Steve Hands out Team Awards
Thank you, and welcome to the First Annual Stevo Awards! It's an honor to be here. I even dressed up for the occasion.
To commemorate the end of the season, I figured I'd give out the prestigious Stevo Awards. Matt Carpenter and Yadier Molina should receive some votes for MVP, and Shelby Miller has an outside shot at being a top-3 pick for Rookie of the Year, but the chances of any of them winning aren't looking exceptionally great.
There were, however, individuals on this team that need to be recognized for their contributions. And my editors don't pay me absolutely nothing for no reason. To that end, I'll share my thoughts on team awards as we look ahead to the post-season.
Team MVP – Matt Carpenter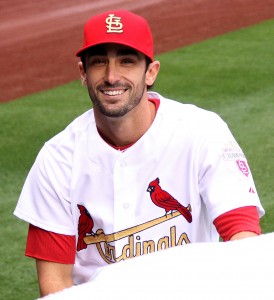 This was probably the toughest decision to make. A very strong argument could be made for catcher Yadier Molina, and if he's your pick I certainly wouldn't argue against you. Molina was easily the MVP of the first half, and he was probably the front-runner for the NL MVP before he tailed off in the second half due to his nagging knee injury. The best defensive catcher in the game, Yadier's escalated his offensive game the last three seasons and should win his sixth consecutive Gold Glove. His handling of the young pitching staff can't be overlooked as well. Given the extreme youth movement of the pitching staff, it could well have faltered easily were it not for a veteran like Yadier behind the plate. If Allen Craig hadn't rolled his ankle in early September, he would have been a lock for 100 RBI and would have been in the discussion (more on him later). Carlos Beltran led the team in home runs and was second in RBI.
For overall contributions, though, it's fairly easy to make a case for Matt Carpenter. Making the switch from third to second isn't the easiest transition to make, but Carpenter's not only made the transition, he's made it look easy, playing above-average defense while turning into one of the top hitters in the league. He led the league in runs, hits, and doubles, and he finished tied for second in RBI among second basemen. The team's struggled to find a dependable leadoff hitter for much of the 2000's decade, but they appear to have found a terrific one in Matt.
Carp even managed to make history this year. He set the team record for most doubles by a left-handed hitter in a season with 55, surpassing the old record set of 53 set by Stan Musial in 1953. The only hitter who had more was Joe Medwick. His 55 place him tied for 19th all time in Major League history.
Beyond that, Carpenter became just the fourth player in history to score at least 125 runs and hit at least 55 doubles, 5 triples (Carp hit 7), and 10 (11) home runs. The other three are players you may have heard of: Charlie Gehringer, Tris Speaker, and Chuck Klein. Of this group of four, he's the only one who led his league in hits.