Latest 'Epic' HD Trailer Featuring Amanda Seyfried, Josh Hutcheson, and Jason Sudekis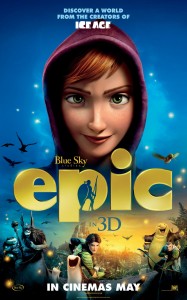 The title should tell you everything of what Epic aims to be.  If the trailers are any indication, the animation work is any indication, the film looks to be shaping up to be that. Although, sometimes beautiful animation isn't all that is needed. If anyone remembers, a couple years ago there was Legend of the Guardians: The Owls of Ga'Hoole which had some of the most impressive animation in a film to date, but lacked a story that rose to the same level as the animation.
This comes from the same studio that brought you the Ice Age movies, but doesn't appear to have the same over the top tone of those films. This could be a film that entertains both children and adults, but I would expect it to skew more towards a younger audience. Hopefully this is another film that the whole family can enjoy together. It's prime release date suggests that 20th Century Fox has a lot of confidence in it.
What did you think? Let us know in the comments!
Synopsis:
Epic is a 3D CG action-adventure comedy that reveals a hidden world unlike any other. From the creators of Ice Age and Rio, Epic tells the story of an ongoing battle deep in the forest between the forces of good and the forces of evil. When a teen age girl finds herself magically transported into this secret universe, she must bad together with a rag-tag team of fun and whimsical characters in order to save their world…and ours.
Director: Chris Wedge
Cast: Amanda Seyfried, Aziz Ansari, Beyonce Knowles, Blake Anderson, Colin Farrell, Jason Sudeikis, Johnny Knoxville, Josh Hutcherson, Judah Friedlander, Pitbull, Steven Tyler