'Enough Said' opens September 27! Enter to Win Passes to the Advance Screening!
Enter to win a pass for two!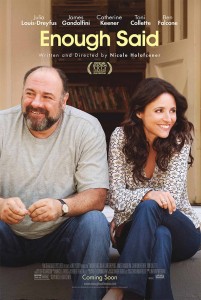 A divorced and single parent, Eva (Julia Louis Dreyfus) spends her days enjoying work as a masseuse but dreading her daughter's impending departure for college. She meets Albert (James Gandolfini) – a sweet, funny and like-minded man also facing an empty nest. As their romance quickly blossoms, Eva befriends Marianne (Catherine Keener), her new massage client. Marianne is a beautiful poet who seems "almost perfect" except for one prominent quality: she rags on her ex-husband way too much. Suddenly, Eva finds herself doubting her own relationship with Albert as she learns the truth about Marianne's Ex. "Enough Said" is a sharp, insightful comedy that humorously explores the mess that often comes with getting involved again.
Cast: Julia Louis-Dreyfus, James Gandolfini, Catherine Keener, Toni Collette, Ben Falcone, Eve Hewson, Tavi Gevinson, Tracey Fairaway
Director: Nicole Holofcener
Enough Said opens Friday, September 27!
Use the contest app below to "like" ReviewSTL on Facebook – then tweet, share, or comment for additional entries!
Winners will be chosen at random from all entries. Supplies are limited. Limit one (1) pass per person, passes admit (2) two. Sponsor's employees and their dependents are ineligible. Screening is overbooked to ensure capacity. Please refer to passes for any other possible restrictions. NO PURCHASE NECESSARY.
Screening will take place Monday, September 23 at Landmark Plaza Frontenac (7pm).