Emmy Nominations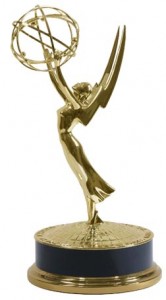 So, Emmy Nominations are out and 30 Rock leads the pack with 22 nominations. The comedy series which is by no means a ratings leader is critically successful and gets a lot of viewers in coveted ad demos (as well as NBC's other successful Thursday comedy The Office). Mad Men also picked up an almost obscene amount of nominations with 16 nominations.
So what did Emmy voters get right?
Well, there is almost no doubt in my mind that 30 Rock is the funniest comedy show on television right now. Tina Fey has proven herself to be a comedic voice for women all over America, and her supporting cast which contained a lot of minor stars before are now propelling themselves into the public eye a bit more. Add in Alec Baldwin giving the best comedic performances of his career week in and week out, and you have a show that deserves all the nominations it got.
Jim Parsons nomination for Best Actor in a Comedy Series is a big deal for the geek oriented show, The Big Bang Theory. Parsons who plays the socially inept genius Sheldon is probably the biggest reason to watch the show. If you aren't watching this show, you are missing out. Every time I watch it I lament that it is only slotted a half hour. I could easily see it playing out as an hour long.
The clever CBS sitcom How I Met Your Mother is finally starting to get some recognition among Emmy voters. It is finally up for Best Comedy Series this year, its chances of winning are probably slim,  but it's great to see a show like this acknowledged. Neil Patrick Harris also picked up a Best Supporting Actor in a Comedy Series nod, probably the shows best chance for a win.
Lost gets another Best Drama Series nomination, as well as a nomination for Michael Emerson as the show's baddie Ben. The show which has taken a dip in the ratings since the first season continues to be one of the most talked about tv shows to air.
Simon Baker grabs The Mentalist its only nomination for Best Actor in a Drama Series. The Mentalist captured more viewers than any new show this year, and a lot of the success is attributed to Simon Baker as Patrick Jane, a former tv psychic who was a phony, but uses his powers of deduction and cunning to track down killers with the California Bureau of Investigation.
The Emmys this year added 6 nominations to each category, except for Best Drama and Best Comedy which increased the nominations to seven. Which is probably the reason some of these people and shows were finally acknowledged .
Jemaine Clement recognized for playing a caricature of himself on Flight of the Conchords is one of my favorite nominations. It's great to see Emmy voters picking up on things slightly out of the normal cultural radar.
So what did it do wrong?
Well, first off, it is great that Jim Parsons got an Emmy nomination, but I'm a bit surprised that nothing else in the series got a nomination. I feel it is better deserving of the nomination than both Entourage and Weeds, which might have better production values, but in no way are consistently entertaining.
Battlestar Galactica once again gets snubbed for best drama series. This was a groundbreaking series that proved you could have interesting characters as well as great action sequences in a sci-fi show and not come off as completely hokey. I am the first to admit that the series was inconsistent at times, but the acting was always top notch. Edward James Olmos, Katie Sackoff, James Callis, and Mary McDonnell all gave performances that were sadly passed over.
Yet another sci-fi series that got no love was FOX's excellent Fringe. It started out a little slower than I liked, but by midseason was my most looked forward to show of the week. John Noble really needs a nomination for best supporting actor for his crazy genius Arthur.
It's Always Sunny in Philadelphia is another comedy series that is more deserving of a nomination, but due to it's highly questionable subject material at times, it is no surprise that Emmy voters didn't go for it.
Josh Holloway for Lost needs a nomination quick. He is the diamond in the rough that was found by Lost producers and is now the heart of the show. He carries the show so well and his on screen romance with Elizabeth Mitchell's Juliet was so dynamic that we forgot all about Kate and Sawyer together.
It may seem I am leaning towards genre shows a big, but that is because those are the shows that are typically snubbed by the Emmy's. Chuck is another genre show that only improved in its second season. Both Zachery Levi and Adam Baldwin deserve the respect of Emmy voters.
The exceptional Southland, which surprised me last season as to how good it is wasn't nominated for a single category. This might have to do with how short the season was, but it is some of the best tv NBC has produced to date, and probably my favorite new drama on tv.
The Shield which finally ended last season failed to get a nomination in any of the major categories. Another groundbreaking cable tv show fails to win over Emmy voters. Anyone probably could have called this, but still upsetting.
Friday Night Lights is once again shut out of major nominations. Many critics consider among tv's best, and it keeps getting picked up for more seasons despite having low ratings. This is probably the best show no one is watching. The characters are very real and grounded and make some very real choices. It can be a little sobering at times, but it doesn't play down consequences and doesn't seem to have drama for the sake of drama.
Best Lead Actress in a Drama contained some of the least daring nominations ever. I am pretty sure I saw all of these predicted a month before the nominations were even announced. How about Mary McDonnell, Regina King, or Evangeline Lilly in there to spice up the category a bit?
So, what are your favorite nominations? and who do you think deserved a nomination and got snubbed? Leave your feedback in the comments!