Where Is 'Eight is Enough' Cast Now? Adam Rich Not On Today Show Reunion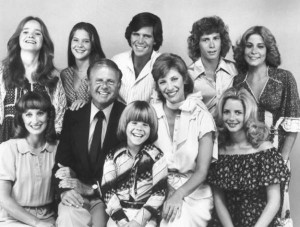 "Eight Is Enough" is an old comedy television show that aired on ABC from 1977 to 1981. The hour long program followed a newspaper journalist played by as Dick Van Patten, and his eight children. Diana Hyland played his wife, but was replaced by Betty Buckley after falling ill in the first season. The 8 children were played by: Grant Goodeve, Lani O'Grady, Laurie Walters, Susan Richardson, Dianne Kay, Connie Newton, Willie Aames, and Adam Rich.
The entire cast of "Eight is Enough" reunited on The Today Show this morning – but with one exception. Adam Rich was nowhere to be found. Rich has had it rough the past couple of decades, dealing with substance abuse and other crimes. In 1991 he was arrested for trying to break into a pharmacy to steal prescription drugs. Dick Van Patten was actually the one who bailed him out of jail that time. More recently in 2003, he was arrested for a DWI – where he almost hit a police car in Los Angeles.
Watch the "Eight is Enough" Family Reunite on the Today Show, without Adam Rich:
From The Today Show: Meredith Vieira chats with some of the cast members from the television drama "Eight Is Enough," which enjoyed a five-season run in the 1970s.