DVD Review: "Buried" Starring Ryan Reynolds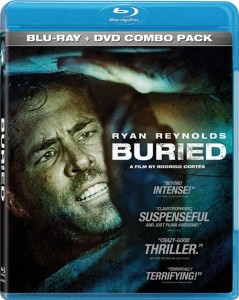 There is often debate in the film critics' world about whether a film's analysis should be isolated to the film itself – only what is presented on screen, or take into account certain external factors that might change the viewing experience. "Buried" is a perfect example of this conundrum, so throughout this review, we will take a look at how this film could be reviewed in many ways.
"Buried" tells the story of expatriate Paul Conroy (Ryan Reynolds) after he has been buried alive in the deserts of Iraq. Equipped (quite liberally) with a lighter, flask, pen, Blackberry, anxiety medications, flashlight, knife, two glowsticks and a partridge in a pear tree, he attempts to free himself. On the surface this is a very simple story – a man is trapped, he has "X" hours to get out. Throughout his endeavors, he contacts numerous government officials, family friends, even his employer to find some way in which he could be rescued. While the core of this story is nowhere near original, the film certainly is. While most writers would weave in flashbacks and cutaways to his family in the states, the various government officials that are trying to rescue him and his employers, "Buried" does none of this. While we hear many other voices over the phone, Ryan Reynolds is the only person the viewer sees during the entire movie. It is literally 95 minutes of Ryan Reynolds.
This is where the aforementioned debate comes into play. The movie itself is not only completely capable of holding the viewer's attention, but thanks to Ryan Reynolds dramatic acting talents it also creates a definite sense of claustrophobia and sympathy for his character. The film gets a bit heavy handed at times with its opinion of American policy concerning hostage crises, but for the most part it remains a very entertaining film. Taking into account its flaws, "Buried" would normally get a "B" – good, but not great. It isn't until some research is done that the viewer might learn that both the director and writer of this film have only one feature length credit a piece to their name. This is essentially a feature film debut for each of them and they took some serious risks in both the writing and directing of this film. Kudos to the production company for allowing them to keep the film "un-Hollywood".
"Buried" is not a perfect film by any means. You will likely be yelling at the screen for Paul Conroy to "do this" or "don't do that", but in many ways that only adds to the viewer's involvement in the film. At the end of the day, "Buried" is a film that more people should see.
What did you think? Should Paul Conroy have watched Kill Bill first, to learn how to escape a coffin? Leave your comments below.