Don't Miss REEL BIG FISH at the Pageant Tonight!
Reel Big Fish are coming to the Pageant in St. Louis Tonight (8/13)!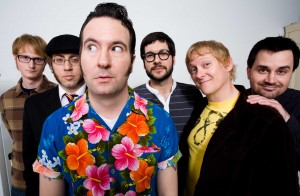 This is going to be a great show that you won't want to miss!
Reel Big Fish is a southern California ska punk band who broke into the mainstream in the mid to late 1990s.
Their debut album, "Everything Sucks" (1995), was an underground hit and led to a deal with Mojo Records, an indie label. "Turn the Radio Off" (1996) established the band in the underground music scene, and they began touring throughout the USA. After the single "Sell Out" began breaking into the mainstream, including MTV, the album made an appearance on the charts.
CHECK OUT THE NEW ALBUM! – "FAME, FORTUNE & FORNICATION"
Fame, Fortune and Fornication was released on January 20, 2009. The album is full of SKA / Reggae covers of great songs like "Talk Dirty To Me" by Poison, "Won't Back Down" by Tom Petty, and "Brown Eyed Girl" by Van Morrison. Here is a full list of songs on the album:
1. Nothing But a Good Time (Poison)
2. Mama We're All Crazy Now (Slade)
3. Veronica Sawyer (Edna's Goldfish)
4. Authority Song (John Mellencamp)
5. Brown Eyed Girl (Van Morrison)
6. The Long Run (The Eagles)
7. Won't Back Down (Tom Petty)
8. Keep a Cool Head (Desmond Dekker)
9. Monkey Man (Toots and the Maytals)
10. Talk Dirty to Me (Poison)
Reel Big Fish album signing at Vintage Vinyl in the Loop tonight at 4:30PM!
8/13, 4:30pm
Vintage Vinyl
6610 Delmar Blvd
St Louis, MO 63130-4503
vintagevinyl.com
DON'T FORGET! Reel Big Fish will be playing at the Pageant tonight (8/13)! We hope to see you there!