DONNIE AVERY IS OUT FOR THE SEASON.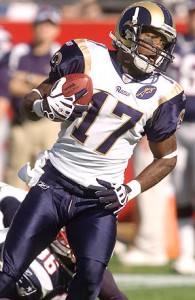 Donnie Avery was looking to breakout this season with a new quarterback throwing the ball his way. That was until the turf in Foxborough Massachusetts jumped up and takled him. In the second quarter of the pre-season game versus the Patriots Avery was streaking down the sideline and an awkward step tripped him up and tore his MCL ligament in his knee. This ended Donnie's season before it even started.
This may be good news for Brandon Gibson and Dominique Curry, a couple of wide receivers on the outside looking into the 53 man roster. I am well aware that Avery has started 28 of 32 games the past 2 seasons. But in those games he has under performed to date only bringing in 100 balls for 1263 yards and 8 touchdowns. Avery has been consistantly "nicked up" the past 2 seasons with ankles, shoulders and such. He seems to get hurt when ever the wind blows and now has given him the nickname "Mr. Glass".
The upside of all of this, the rest of the receiving core looks much improved. Laurent Robinson was already the number one and Danny Amendola was closing in on Avery as the number two. Bradford also looks comfortable with his new "safety valve" ….UhOh aka Michael Hoomanawanui. This pair is capable of putting up big numbers this season!
New addition of Danario Alexander (Mizzou) will probably start the season on the practice squad as he learns the offense and rehabs his injured knee (had the same MCL surgery Avery's expecting 6 months ago) but will be a set of fresh legs around the bye week mid-season!
As I have stated I HATE THE PATRIOTS, but that being said I want to applaud a sign of class by Wes Welker who went over and shook Donnie's hand and gave him the ol' "It's gonna be alright". Welker can relate seeing he blew out his knee last season and recovered quickly from the surgery to even start this season.
I am Ram Man, if you have an empty seat let Donnie Avery know he is in the market for one.
Tuesday we will have the cuts down to the 72 man roster!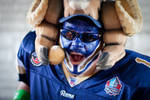 I will see you all in the EndZone!