Enter for your chance to receive a pass for two to a special advance screening!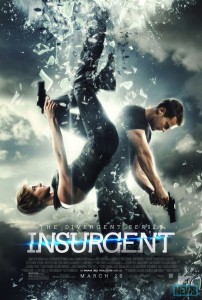 THE DIVERGENT SERIES: INSURGENT raises the stakes for Tris as she searches for allies and answers in the ruins of a futuristic Chicago. Tris (Woodley) and Four (James) are now fugitives on the run, hunted by Jeanine (Winslet), the leader of the power-hungry Erudite elite. Racing against time, they must find out what Tris's family sacrificed their lives to protect, and why the Erudite leaders will do anything to stop them. Haunted by her past choices but desperate to protect the ones she loves, Tris, with Four at her side, faces one impossible challenge after another as they unlock the truth about the past and ultimately the future of their world.
Cast: Shailene Woodley, Theo James, Octavia Spencer, Jai Courtney, Ray Stevenson, Zoë Kravitz, Miles Teller, Ansel Elgort, Maggie Q, Mekhi Phifer
Director: Robert Schwentke
In order to enter the contest, e-mail us and tell us why you can't wait to see the movie! Tweet #insurgentSTL @reviewstlouis on Twitter for an extra entry!
No purchase necessary. Void where restricted or prohibited by law. At the screening seating is not guaranteed and is available on a first-come, first-served basis. Refer to screening pass for further restrictions. Screening pass winners will be drawn at random and notified via email. Limit one (admit-two) pass per person. Must be age 13 or over to enter.
Screening will take place Monday, March 16th at the Galaxy 14 Cine
THE DIVERGENT SERIES: INSURGENT Opens March 20