Disney's The Princess and the Frog – Movie Review
When Pixar wiz kid John Lasseter took over as Walt Disney Studios CEO, he made an interesting announcement: he wanted Disney to get back into traditionally animated films.  It was interesting in so much as conventional industry wisdom was that kids today no longer wanted hand drawn cartoons, preferring instead the computer animation of movies like Toy Story, Shrek and Ice Age.  Lasseter felt, and rightly so I believe, that audiences respond first and foremost to the story.  Finding Nemo works regardless of whether or not computers were used to create it.  Which brings us to The Princess and the Frog, Disney's first traditionally animated film since 2004's instantly forgettable Home on the Range.  The film, set in the pre-Depression Jazz Era of 1920s New Orleans, features Disney's first African-American princess, Tiana (Anika Noni Rose).  [morelink]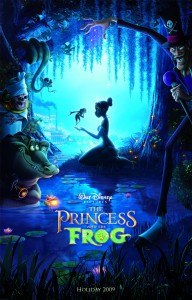 Tiana is waitressing in a greasy-spoon while saving money to open her own restaurant while her friend Charlotte (Jennifer Cody) eagerly anticipates the arrival of Prince Naveen (Bruno Campos). Tiana and Charlotte, the daughter of wealthy local businessman "Big Daddy" La Bouff (John Goodman), have been friends since childhood when they played together while Tiana's seamstress mother made princess dresses for Charlotte and regaled them both with fairy tales like The Frog Prince.  Naveen, upon arrival, falls in with Dr. Facilier (Keith David) a voodoo spewing huckster bent on using the dark arts to appropriate the Charlotte's inheritance.  His plan: turn Naveen into a frog and use his servant Lawrence (Peter Bartlett), in the magically induced guise of Naveen, to seduce and marry the prince-seeking Charlotte.  Post-conversion, Naveen comes upon Tiana in a moment of weakness and convinces her to attempt reversing the spell by kissing him.  However, since she's not a princess she succeeds only in turning herself into a frog.
The Princess and the Frog is something of a throwback; reminiscent of '90s era Disney cartoons like The Little Mermaid.  It's beautifully animated.  Portions of the 2D film look more 3D than many actual 3D films.  It's obvious that many old-school animators poured their hearts-and-souls into this film hoping to revive the genre.  Unfortunately, the movie stumbles in other areas.  While all of the songs are solid and evoke the spirit and location of the film none rise to the level of true Disney greatness.  The script itself is so bogged down in exposition and moving the story forward that there isn't much room for humor.  Most of the laughs come courtesy of Naveen.  There are some supporting players added once Naveen and Tiana join the animal kingdom, Ray (Jim Cummings) a lovesick firefly and Louis (Michael-Leon Wooley) an alligator that dreams of joining a jazz band, but neither break-out in that way that similar past characters have.
Ultimately many of the movie's problems fall at the feet of Tiana.  So much has been made of her historical nature (i.e. Disney's first Black princess) that the filmmakers feel frightened to make her an interesting character.  The writers are so concerned that any dubious decision or character trait will be attributed to her ethnicity rather than her specifically that they've completely sanitized her of any personality.  Granted, she hasn't reached Pocahontas territory but it's close.  All the great Disney characters are flawed.  (Some are so famously flawed that actual psychological conditions have been named after them (The Peter Pan Syndrome, Cinderella Complex, etc.)  The main character of a Disney film is deliberately imperfect.  It creates conflict and allows for a lesson to be learned.  "Nemo, listen to your father."  "Marlin, trust your children."  "Pinocchio, don't lie."  "Dumbo, be proud of who you are."  However, with Tiana her greatest flaw is what…she works too hard?  Let me think, she was saving money diligently in order to start her own business…um…but she was keeping it in coffee cans rather than in a bank!  Think of all that lost interest!  Oh wait, this movie takes place shortly before the Great Depression and, therefore, predates the creation of the FDIC.  Damn you Tiana and your financial acumen.
The Princess and the Frog is by no means a bad movie.  It's a pleasant excursion that's still light-years ahead of most of the animated fare being foisted on children these days.  But, for a movie heralding Disney's return to their hand-drawn roots, I was hoping for something a little stronger than "pleasant".
On a scale of 1 to 10, with 10 being The Little Mermaid and 1 being Song of the South, The Princess and the Frog gets a 7.