Movie Review: Disney's "Tangled" Starring Mandy Moore, Zachary Levi, Brad Garrett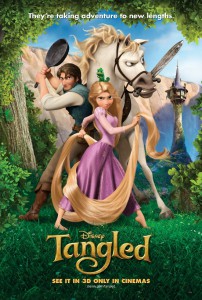 Don't let the title fool you. Tangled is really Rapunzel in "tween-boy targeted" clothing. The film marks, with surprisingly little fanfare I might add, Disney Studio's 50th animated feature. Mandy Moore stars as our formerly-titular hero while Zachary Levi plays Flynn Ryder, a charming ne're-do-well who stumbles upon the tower in which she's been imprisoned by her step-mother. The movie adds a modern sensibility to a classic tale but, refreshingly, it isn't awash in anachronistic pop-culture references so like so many animated features. (Is there anything more cringe inducing than the Arsenio Hall reference in Aladdin 18 years later?)
The film is remarkably faithful to the original fairy tale. In fact, were it not for the tone of the dialog, it is downright old fashioned. It even has music by Alan Menken (The Little Mermaid, Beauty and the Beast, Aladdin). Sadly Howard Ashman, the lyricist for those films, has passed away and the songs, while serviceable, never rise to the level of the duo's classic work.
The highlight of the film is Levi (perhaps best known for Chuck). His voice work brings a casual charming delivery that makes many of the jokes work way better than they have any right to. Unfortunately, Moore (as Rapunzel) is capable but far from outstanding. Her characterization adds nothing that we have not already seen in virtually every Disney Princess since Ariel. She's wistful and innocent yet plucky. It would be easier to pin that on the writing if Levi wasn't doing such a strong job of coloring outside the lines throughout the film.
While the film aims for classic Disney (an admirable, if daunting, goal) it never quite reaches that level. The story is strong and the film is well paced. What it needed to hit that next level was strong songs. All the great Disney features have legendary songs. Mention The Little Mermaid or Snow White one of a dozen others and you'll instantly be humming a song. But it's definitely another strong step in the right direction for traditional animation. The Princess and the Frog looked great but was ultimately a somewhat lifeless affair. This time out they've kept the animation quality high and improved the story significantly. If they can get the songs situated, traditional animation could finally get some of its swagger back.
On a scale of 1 to 10, with 10 being The Little Mermaid and 1 being Barbie as Rapunzel, Tangled gets an 8.
[hdplay id=208 width=595 height=375]