Dinner For Schmucks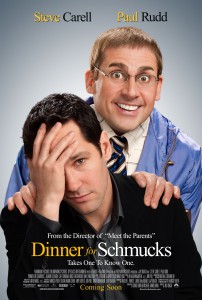 Directed by Jay Roach (the 'Austin Powers' series, "Meet the Parents"), "Dinner For Schmucks" is a remake of the 1998 French film "The Dinner Game." This Americanized take stars Paul Rudd and Steve Carell, in a movie with pretty consistent laughs. Fueled by the two likable leads, and a great supporting cast, this is one dinner party worth making a reservation.
Tim (Paul Rudd) works on the sixth floor of Fender Financial as an analyst, dreaming to move up to the seventh floor and get a big promotion. Part of his motivation is attributed to impressing his girlfriend Julie (Stephanie Szostak), an art curator who he desperately wants to marry. But Julie is busy with work, currently with an artist named Kieran Vollard (Jemaine Clement, "Flight of the Conchords"), and says she needs some time. Tim hopes that the promotion will be enough to expedite her decision, and show her that he can take care of her.
One day Tim travels upstairs to meet with the big guys, to talk about a prospective client named Müeller (David Williams) who wants to invest $100 million dollars of his family fortune with their company. Tim pitches an idea that everyone blows off, until he tells them that the investor loved his idea, and wants to schedule a meeting. His boldness stands out enough for the owner of the company, Mr. Fender himself, to invite him to talk in a vacant seventh floor office with a few colleagues. When he arrives, and asks if it is his new office, Fender replies "not yet." Fender, along with Williams (Larry Wilmore) and Caldwell (Ron Livingston), tell Tim about a party they hold every Saturaday. Making it seem like some sort of initiation, they ask him to attend and bring with him the biggest idiot he can find. At this dinner, they basically make fun of the guests and award the most idiotic one the "biggest winner." While Tim is driving, he happens upon the perfect candidate – Barry (Steve Carell) – and hilarity ensues as the two interact up until the big dinner.
Through the movie, the laughs are pretty consistent. With this type of movie, you know what you are getting into. So as long as you aren't expecting too many thought provoking jokes, it should meet or exceed expectations. Most of the success from the film actually comes from the supporting cast. While Paul Rudd and Steve Carell have a good chemistry together in the lead roles, many of the best parts come from their interactions with the other characters. The standout role in the film has to go to Jemaine Clement's character, Kieran. His bazaar artistic style, coupled with his ridiculously awkward lines, makes almost every scene he is in a gem. Even those who won't recognize him from "Flight of the Conchords" will most likely find him to be hilarious, and I think he will gain some more fans from this role. Ron Livingston adds to the fun as a seventh floor employee, who is threatened by Tim's ideas. Kristen Schaal, who also made a big impression in "Flight of the Conchords," seems to be in every comedy lately – to which this one is no exception. She plays Tim's assistant, who encourages him to take the two of them up to the seventh floor.
In the end, "Dinner For Schmucks" is a highly entertaining film that doesn't require a whole lot of thinking. If you want to just sit back, and have some good laughs, this one is for you. Much of the humor comes from Barry ruining Tim's every chance for success, often making you want to cringe. But when it is all said and done, you can't help but to have a good time in watching the mayhem ensue.
"Dinner For Schmucks" is a B-