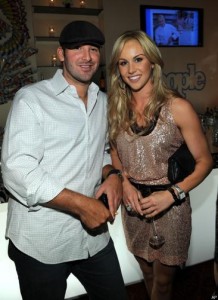 Sidelined Dallas Cowboys quarterback Tony Romo is making the most out of his time while injured. The 30-year-old quarterback has proposed to former Miss Missouri, and sister of Gossip Girl actor, Chace Crawford. Crawford is currently a sports reporter in Dallas. (Hmm, I wonder how they met?)
Romo proposed to Crawford last night in Dallas during celebrations for her 24th birthday. This is the second of Jessica Simpson's exes who have gotten engaged recently. Simpson's ex-husband Nick Lachey, who she starred on the show Newlyweds with, proposed to long time girlfriend Vanessa Manillo.
Well, we all remember how bad Simpson appeared to be for Romo's career, can Crawford being a sports reporter manage to keep his head in the game? As a Cowboys fan,I sure hope so.
Let us know what you think in the comments!