Concert Review: The Temper Trap at The Pageant, June 9th 2011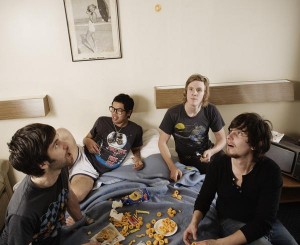 Wednesday saw the first visit the latest "it" band The Temper Trap made to St. Louis. The Pageant was moderately packed for this Wednesday night, and the lights and sound were spot on for both acts. The drums were loud and added a lot of feeling to the acts. The show, opened by the all girl psychedelic foursome Warpaint, was loud, and full of excitement. Warpaint took the stage for about 40 minutes with a moody and sinister set. Their on stage presence is quite engaging, with all the women in the band really looking like they are enjoying themselves and the music they are creating. Warpaint's music feels more organic live than it does on their EP Exquisite Corpse, with much more improvising. Tracks like Stars, and Elephants especially stood out. Warpaint's set created an aura in the room and left The Temper Trap with a dark feeling in the air, but that quickly faded once they took the stage.
The Temper Trap, who performed every track from their first and only full-length album, Conditions, quickly turned The Pageant into a bouncing, love-filled room. Opening with Rest, the band brought the mood up almost instantly. The Temper Trap have some serious on-stage presence. Their music is triumphant and oozes with lyrics of love and romance and lead singer Dougy Mandagi lights up the stage with his sick dance moves and incredible voice. The rest of the band falls in line and puts on a great show while also performing very well. The Temper Trap sounded as good or better than their recording for the majority of the show, in my humble opinion. Conditions is a fantastic album, and every single track is listenable and repeatable, which meant the show never felt like it was slowing down or dragging on. In the encore, The Temper Trap played an unreleased acoustic song and closed with Science of Fear, one of my personal favorite songs on the album. Overall, I'd say the night was a great success, and I'll be counting down the days until both The Temper Trap and Warpaint come back to see us.