Concert Review: Tech N9ne plays The Pageant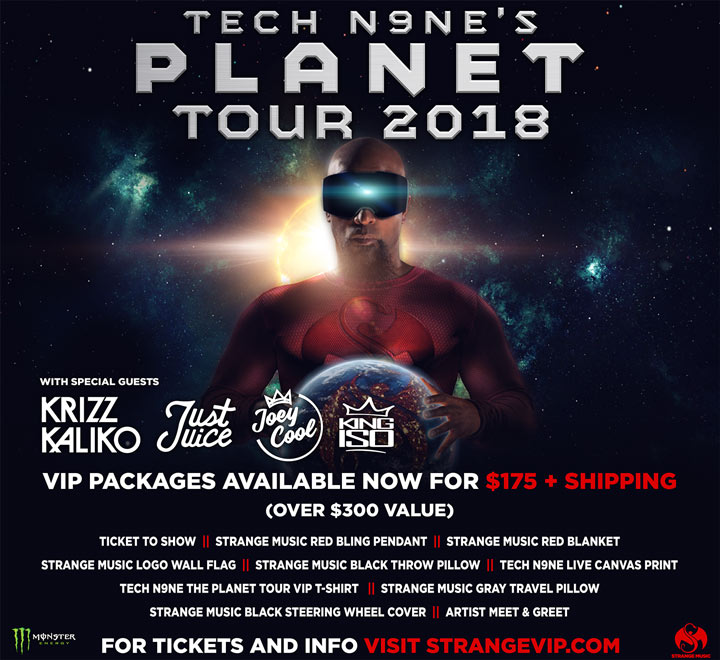 Strange Music presented an array of rappers, and even a pop artist, Thursday night at The Pageant in St.Louis. Even with the venue fairly jam packed, there was plenty of room to ensure fans had a great time and had a decent view of their idols performing on stage.
Of course, many of the attendees were there to see the legendary Tech N9ne. However, other performances included King Iso, Joey Cool, Mackenzie Nicole, and Just Juice. Most of the opening acts were entertaining and contained rich vocals and bopping beats. Mackenzie Nicole, who has been touring and singing alongside Tech N9ne since she was nine years-old, gave a spectacular performance. She included songs of her own such as "The Edge" and "Darkside," but also included some of Tech's top hits in which she featured on, such as "We're Not Sorry."
New coming rap artist, Just Juice, and his DJ put on a nice performance, but there are a few critiques. While Just Juice is an incredible free-stylist, rapping almost as fast as Tech N9ne, his DJ was a bit of a distraction when trying to enjoy Just Juice's music. He was very determined to pump up the crowd as best he could, and he hoped the ceiling of The Pageant would shake. Though the enthusiasm was appreciated, it took away from the actual performance, making it hard to enjoy the set. Just Juice dedicated his performance to his brother, whom he lost about four months ago. Juice and his DJ also called out all of their bullies in middle school and high school, and encouraged the crowd to let out their anger towards bullies of their own. The speeches they gave were inspiring, but were often repetitive. Overall, the performance was relatively enjoyable, and fans are looking forward to seeing Juice collaborate with largely famous rapper, Logic.
Tech N9ne hit the stage at 10:05 p.m., and alongside Tech was Krizz Kaliko. The two performed for a grand total of one hour and forty-five minutes, making it a much longer show than what most concert-goers are used to. As Tech had mentioned in his interview with ReviewSTL, fans saw the three different personas of Tech: "The G," "The Clown," and "The King." "The G's" costume consisted of a red tracksuit with a white lightning bolt on his chest. In other words, he was dressed as a gangster, the persona in which he wanted to emphasize. He wore his infamous white clown mask, which would scare the hell out of any child had they seen it. Tech also mentioned in his interview with ReviewSTL of when he wore that same clown mask to his interview with the journalist who accused Tech of lip-syncing. There were several fans who dressed as "The Clown", and Tech even invited one onstage. The fan's face was painted to replicate Tech's mask, and he was wearing all white from head to toe. The fan practically mirrored Tech's entire costume when standing next to him, which impressed the entire crowd.
To close the show, Tech wore a large cloak-like costume to represent "The King" persona. Songs in this set included "Sriracha," "He's a Mental Giant," and more. His final setlist, "The House of Hits," included his top hit songs such as "Bad Juju," in which he brought out King Iso. His final song, where all the previous acts joined him, was "Hood Go Crazy."
What was interesting about Tech's performance is the complete control he had over the crowd. When he stuck his tongue out, the crowd followed. When he jumped around, the crowd jumped around. Tech truly fit his "King" persona; the crowd worshiped and bowed down to him as if he were royalty. The concert was different to say the least. Between the many fights that broke out in the crowd, to the smell of drugs filling up the arena, and the handful of women who flashed Tech and the rest of the crowd, this concert was definitely fitting to the whole Strange Music mission. Nonetheless, the concert was entertaining and no one could ever predict what would happen next, both on and off stage.
Tech's P.L.A.N.E.T tour will continue on until September 19th at The Republik in Honolulu, Hawaii. Tickets are still available.