Concert Review: Depeche Mode at the United Center in Chicago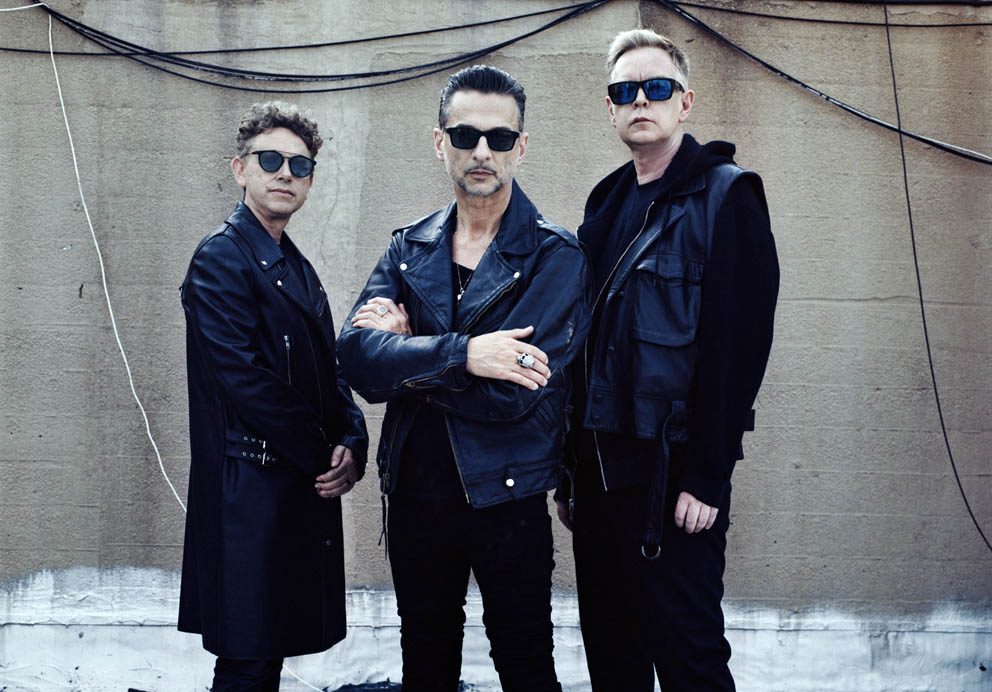 June 1st

Having spent four decades together it's no surprise that Depeche Mode has undergone many incarnations (new wave popsters, leather-clad clubbers and arena rock megastars just to name a few) in a constant quest to not only remain relevant but also to further explore the dynamics of where they could go aesthetically and sonically.
Operating mainly as a threesome these days, Andy Fletcher, Dave Gahan and Martin L. Gore have settled deeper into the grittier persona they have been cultivating since the mid 1990s, resulting in material that still touches on their sexy seediness while also demonstrating that Depeche Mode are still quite aware of the world they live in and life in general.
Having recently expanded their Global Spirit World Tour to include a new round of American dates, Depeche Mode brought a tightly paced performance to the not so friendly confines of Chicago's United Center.
The addition of drummer Christian Eigner and multi-instrumentalist Peter Gordeno has given Depeche Mode a fiercer and more urgent sound. Mostly aggressive and Unrelenting, the band's twenty song set was smartly complemented by projected films and visuals that helped frame their core themes of desire, love, and yearning.
Using The Beatles' Revolution as a prelude it was clear that Depeche Mode was out to make a point. The political subtext of last year's Spirit album came through live via Going Backwards and Where's The Revolution, two tunes that stridently underscore they're opposed to tyranny.
It's No Good was an early highlight, finding vocalist Dave Gahan full of exuberance before moving onto the darker A Pain That I'm Used To and the forlorn Precious.
World In My Eyes got fans moving their feet as the band settled into a run of popular favorites, including Home and elegiac In Your Room.
In a show filled with bass and beats, the fragility of I Want You Now and The Things You Said was utterly refreshing. Both songs featured Gore, clad in all white and featuring a voice that has yet to yield to time, bringing a profound sense of intensity to the proceedings.
The sublime presence of Gore served as an interesting contrast to the spinning, prancing, and dancing of Gahan who seldom stayed stationary during their crisp two-hour set. Gahan was particularly animated near the end of the show as the band moved fans into a sing-along frenzy with a string of favorites including Everything Counts, a revamped Enjoy the Silence and a thunderous Never Let Me Down Again.
One of the challenges a legacy band like Depeche Mode faces is pulling off an encore that caps an evening of hits without surrendering momentum. Luckily the boys from Basildon had a few tricks up their sleeves.
After the aforementioned I Want You Now came an amped up version of Walking In My Shoes along with a full-throttle version of A Question of Time.
With an audience aching for the more a prolonged guitar riff and pulsing bassline signaled the arrival of Personal Jesus, an all-out stomper which has for better or worse has become their signature tune.
Setting aside the synthpop of their formative years, Depeche Mode has instead focused on playing newer material that emphasizes their musical and philosophical maturation. It's a bold gambit, but one that has bolstered Depeche Mode's stature as a live act that can deliver the goods.
Despite playing in a cavernous and esoteric venue their Chicago show flawlessly mixed sight and sound to create a thunderous evening of music for the masses.
Photo credit: Anton Corbijn