Concert Review: Taylor Swift at Nissan Stadium, Nashville, Tennessee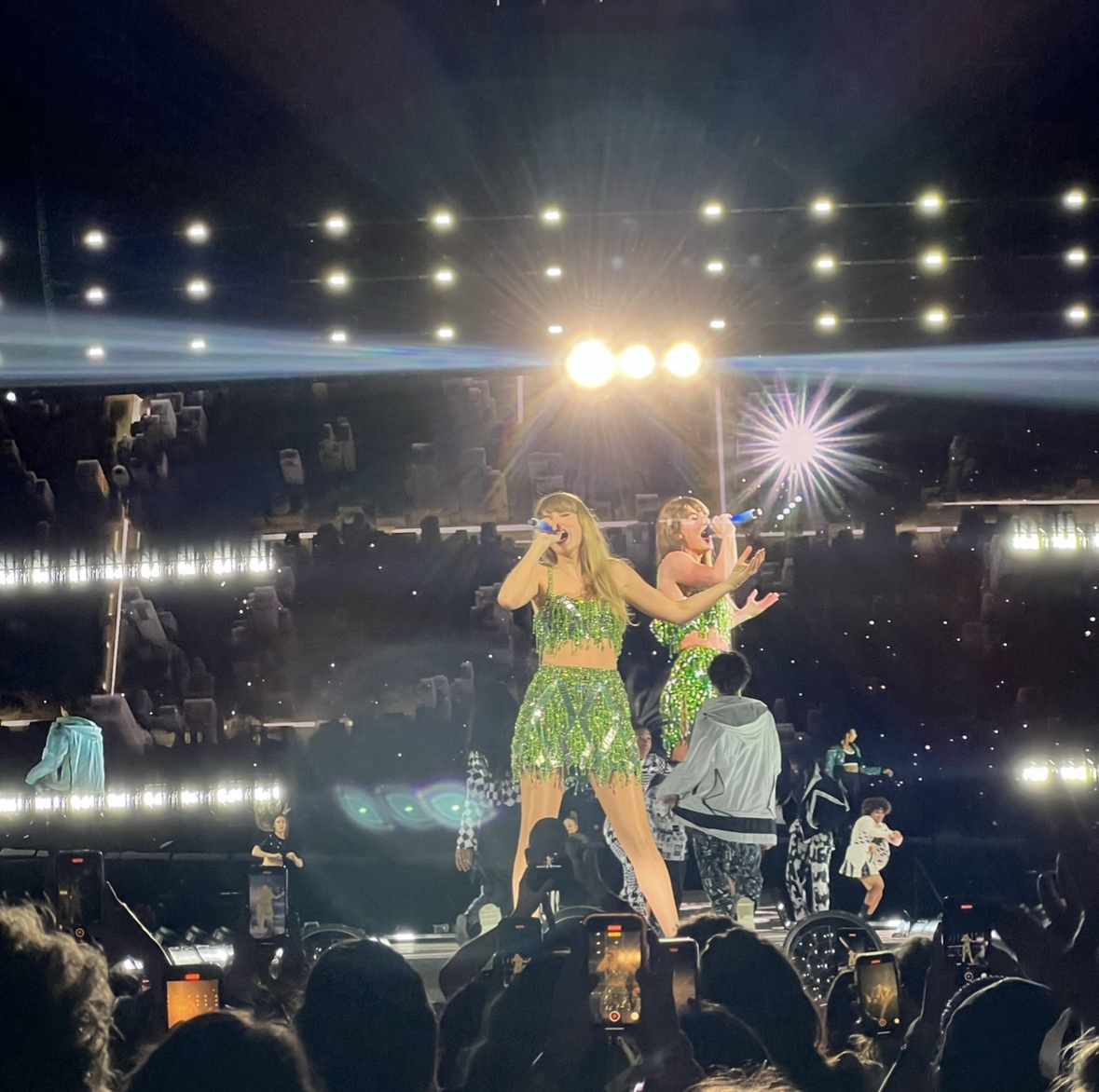 Special from Tanya Miget
The Swifties took over Smashville this past weekend, as Taylor Swift and her legion of fans embarked upon Nissan Stadium for a three-night spectacle.
Missouri, namely Kansas City better get ready, because July 7 and 8, Swift and her fans will descend upon the home of the Super Bowl champion Kansas City Chiefs.
Gracie Abrams and Phoebe Bridgers opened the show and were excellent in getting the crowd of over 70,000 warmed up for what would be a marathon of Swift hits.
Shortly before Swift took the stage, a countdown clock appeared. The crowd began to cheer with anticipation, getting louder as the clock approached 0:00. Then, Swift just appeared on stage, kicking off the show with her Lover Era.
"Oh hi," Swift said following the opening number of "Miss Americana & The Heartbreak Prince," as if surprised to see 70,000+ (setting a single night attendance record at Nissan Stadium) of her closest friends show up in her living room.
Feeling like a spectacular show you would see on the stages of Las Vegas, Swift danced and sang for nearly 3 hours. Each song had its own choreography and many costume changes accompanied the over 40-song set.
While just yards from the stage, which is appropriately a football term used in Nissan Stadium, a 70-foot screen ensured that every fan in any seat in the stadium, could see the show.
Opening the show from her 2019 Lover album, Swift ran through songs like "Cruel Summer," and "The Archer." Fans were given light up bracelets that turned on during Taylor's set. They were timed to the beat of her songs.
There was a short break and outfit switch before each era of the show. Swift could be seen wearing a silver sequined shorts romper, a gold fringed sequined dress, among other outfits throughout the night.
The switching of era's kept the fans on the edge of their seats, not knowing what the entertainer would do next. The Reputation Era seemed to be a fan favorite, featuring classics "Delicate," "Don't Blame Me," and "Look What you Made Me Do."
The Folklore Era seemed to have the most songs played, as Swift performed 8 songs from that album. Songs such as "Bad Blood," "Blank Space," and "Shake it Off" were all performed during the era.
Swift closed the show with her "Midnights" album. The album was released in 2022. She also announced her Speak Now album will be the next to get her version treatment. It will be released on July 7, the day she opens her two-nights in Kansas City.
Swift is at the top of her game. Not a single entertainer can touch her, as she is in a class of her own. If her three-night stop in Nashville is any indication, Kansas City better be ready. Swift's tour features more fireworks than a Patrick Mahomes' game against the Raiders.
Taylor Swift Eras Tour Nashville Set List:
Lover Era
"Miss Americana & the Heartbreak Prince"
"Cruel Summer"
"The Man"
"You Need to Calm Down"
"Lover"
"The Archer"
Fearless Era
"Fearless"
"You Belong With Me"
"Love Story"
Evermore Era
" 'Tis the Damn Season"
"Willow"
"Marjorie"
"Champagne Problems"
"Tolerate It"
Reputation Era
"Ready For It?"
"Delicate"
"Don't Blame Me"
"Look What You Made Me Do"
Speak Now
"Enchanted"
Red Era
"22"
"We Are Never Ever Getting Back Together"
"I Knew You Were Trouble"
"Nothing New" (with Phoebe Bridgers)
"All Too Well (10-Minute Version)"
Folklore Era
"The 1"
"Betty"
"The Last Great American Dynasty"
"August"
"Illicit Affairs"
"My Tears Ricochet"
"Cardigan"
1989 Era
"Style"
"Blank Space"
"Shake It Off"
"Wildest Dreams"
"Bad Blood"
Surprise song – "Sparks Fly
Surprise song – "Teardrops On My Guitar"
Midnights Era
"Lavender Haze"
"Anti-Hero"
"Midnight Rain"
"Vigilante Shit"
"Bejeweled"
"Mastermind"
"Karma"