Concert Review: Summerland Tour in Kansas City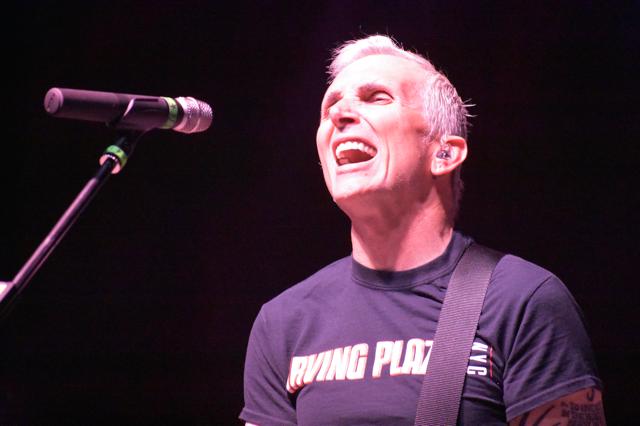 While the annual Summerland Tour has frequently made St. Louis a stop along its summer trek, this year the tour didn't stop in the Lou, instead stopping in Joliet, Illinois and Kansas City.
Summerland made it's Kansas City stop at The Crossroads venue, which is a pretty neat little outdoor venue, flanked by a bar called Grinders.
On an extremely warm evening, it was not appreciated that the show didn't start on time. The show was scheduled for a 7 p.m. start, but didn't wind up getting going until 8 p.m., when Local H took the stage.
I was kind of disappointed to see Local H opening the show, but I guess it also made sense. From my perspective, Local H is still one of the best touring bands around. While they may have had one major hit, "Bound For the Floor," as a fan of the band, they have so many great songs.
Local H took the stage at 8 p.m., and breezed through their 9-song set. I would have like to have heard a bit more, but it was still a nice, quick, straight to the point set for the band.
Next up was Marcy Playground. This is a band I really didn't know much about. I had heard their lone hit, "Sex and Candy," but the band sounded great. I didn't realize how diverse the sound of Marcy Playground really was. The band almost has a sort of Alt. Country sound to them at times. I really enjoyed their mellow sound.
Finally, Everclear closed out the show. While the band consists of pretty much new members and frontman Art Alexakis, the band sounded tight. Actually, Everclear sounded better than I can remember hearing them sound before. This was probably around the 6th time I'd seen Everclear, so their set met my expectations. Alexakis and his crew played all the hits from throughout the years including; "Father of Mine," "Wonderful," "Santa Monica," and much more.
Overall, on a blazing hot evening, the show was not really affected from the heat. Fans seemed to be in good spirits and I have to commend The Crossroads venue for being so laid back and welcoming. Being my first time at the venue, I always worry how it will be compared to St. Louis venues I'm used to visiting. I'd put Crossroads right up there with some of my favorite spots.
Summerland Tour gets a B.