Concert Review: Dierks Bentley at Hollywood Casino Amphitheatre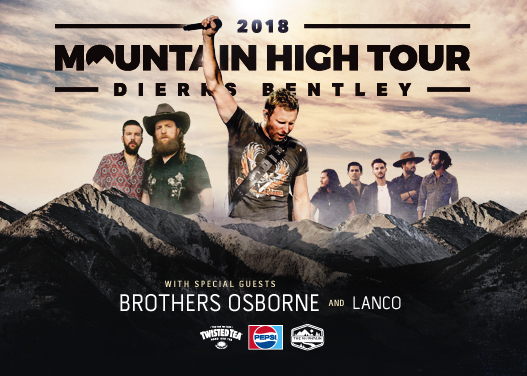 By Bryan Bealmear
Dierks Bentley brought his summer themed Mountain High Tour to a rainy St. Louis on Saturday night.
Despite the inclement weather, Bentley played to a full house at Hollywood Casino Amphitheatre. Accompanying Dierks was Lanco and Brothers Osbourne. Back by popular demand, the Anheuser Busch Boys started off the evening.
Anheuser Busch Boys kicked the evening off with a bluegrass rendition of Green Day's "Basket Case". Then proceeded onto an original song but stopped abruptly due to infighting among the band. And finally, to close out their short set they borrowed a song from their headliner, Bentley's "I Hold On."
Next up was relative newcomer Lanco, playing mostly songs from their first album. Including singles "Long Live Tonight," "Born to Love You," and finally wrapping up with their first number one hit "Greatest Love Story."
Brothers Osbourne were up next in a guitar lover set which included many solos by lead guitarist John Osbourne. Keeping with the summer theme, the brother did their single "Rum," along with other singles including; "Shoot me Straight," "21 Summer," and "It Ain't My Fault."
And finally, Bentley took the stage. Bentley walked onto the stage playing a small excerpt of the title track of his album "The Mountain," which will be released June 8th. Bentley let the crowd know how the night would go shortly after, throughout the course of the night he would take them on a journey up to the top of the mountain.
For his first song, he started with on the beach with his 2016 hit single "Somewhere on the Beach."  Next taking his fans up on the ridge with his 2010 bluegrass release for "Up on the Ridge." 
Throughout the course of the journey, Bentley dusted off various songs from his catalog. Including "What Was I Thinking," a solo rendition of "Different For Girls," "Black," "Every Mile a Memory" and fan favorite "Drunk on a Plane."  In one of the somber events of the evening, during the course on performing "Women, Amen" Bentley displayed fan supplied pictures of women who inspired them.
To help the crowd achieve their goal of reaching the summit of the mountain, Bentley broke out his 2015 single "Riser."  And finally, after Bentley completed his set, Joe Walsh's "Rocky Mountain Way" brought the crowd finally to the top of the mountain.