Concert Review: Carly Rae Jepsen at The Pageant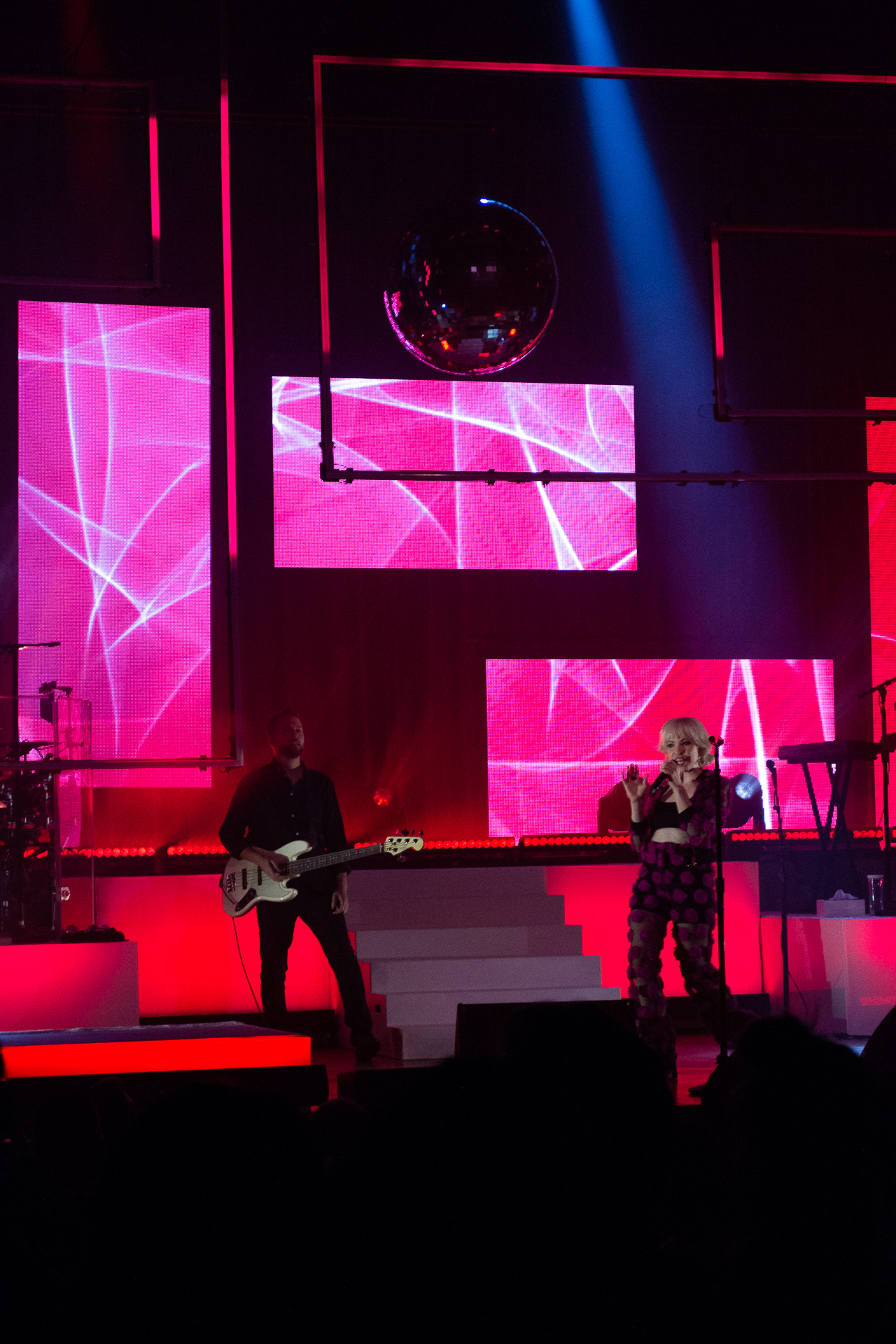 By Hannah Bodenhausen
If the name Carly Rae Jepsen still only springs to mind the 2012 mega hit "Call Me Maybe," I hate to break it to you, but you are way behind the curve. The Canadian singer brought her infectious brand of pop to The Pageant Saturday night to a packed house of fans in promotion of her most recent album,Dedicated. The set was essentially a 90-minute dance party featuring tracks mainly from Dedicated and her 2015 cult hit album, Emotion.
The show was opened by Australian trio Mansionair, and as soon as they left the stage, it quickly became clear just how excited the crowd was for Carly's set. Cheers erupted throughout the just as her crew came out to set up her stage equipment. This air of eagerness and excitement in the audience was just a preview of what was to come. Jepsen is clearly very special to her fans, and it is obvious from her live performance that this is a fact she is well aware of and does not take for granted.
Carly's entrance was met with screams from her mostly adult fan base, who immediately began dancing and singing along to her first song "No Drug Like Me". Throughout the rest of the night, the energy never fell too far and each song she sang reignited the audience. While she did not spend much time talking in between songs, she occasionally told an anecdote about the meaning of her next song, which the fans could immediately identify and anticpate even before a single note was played.
Jepsen sang her way through most of her recent discography, addressing topics in her lyrics that could be considered somber, such as breakups, loneliness, and changing yourself for someone else, joyfully. Songs like "Store," "When I Needed You," and "Party for One" are just a few of the cuts she played that exemplify the strong sense of independence, confidence, and individual strength that her music brings to the fans. The show for many was clearly a safe space where everyone could express themselves fully. Carly understood this throughout the whole show, often breaking down from her choreography for fleeting moments engage with the fans with a brief laugh or smile.
The show ended in an explosive finale as confetti was blasted into the crowd on the final chorus of "Cut to the Feeling," one of her most popular songs which had everyone singing and dancing. It was impossible not to feel on top of the world as thousands of flecks of paper rained down and fans raised their arms in the air and jumped around, free to be confident in themselves no matter who they were or what may have awaited them after the escape of the show was over.
A Carly Rae Jepsen show is a freeing and empowering place that makes you feel joy unlike any other. I wanna cut to that feeling all the time.
Photo by Hannah Bodenhausen.