Complete Dancing With The Stars 2010 Cast List; Evan Lysacek, Buzz Aldrin Among Dancers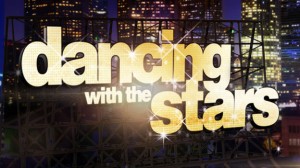 Earlier this evening during the season finale of "The Bachelor: On The Wings of Love," the 2010 lineup of celebrities for Season 10 of "Dancing With The Stars" was revealed.
Other than Kate Goselin (John and Kate Plus 8), most of the celebrity dancers were nothing more than rumors and speculation. Here is the complete list of Season 10 stars from ABC:
---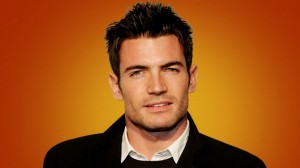 Aiden Turner
Soap fans know Aiden Turner as Pine Valley's sexiest spy guy. Now he's staking out the competition on Dancing with the Stars!
Aiden Turner was born on April 2, 1977 in Hertfordshire, England and was educated at St. Edmund's College. He attended culinary school to pursue his love of cooking and for two years he worked as a chef in Hertford. While doing so, he taught himself how to mix music, thus he also began working at night as a DJ.
He then went on to follow his dream to travel all over the world, visiting Thailand, Malaysia, Bali, Australia, New Zealand, Fiji and North America. He studied acting at the Method Studio Covent Garden in London, which helped him land commercial and television castings.
Aiden was cast for the role of Aidan Devane on ABC's All My Children in 2002. He played that role for eight years and recently left the show to pursue other acting opportunities in film and television. Glad he penciled us in to help kick off those other endeavors!
---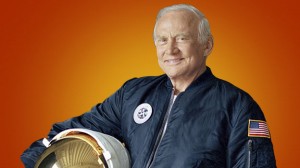 Buzz Aldrin
He walked on the moon. Now let's see what those feet can do on Earth.
Astronaut, scientist, inventor, best-selling author, advocate for man's future in space, Buzz Aldrin is considered one of the greatest heroes of space exploration. On July 20, 1969, he and Neil Armstrong made their historic Apollo 11 moonwalk, becoming the first two humans to set foot on another world.
An estimated 600 million people witnessed this unprecedented heroic endeavor. Upon his return from the Apollo 11 mission, Buzz was decorated with the Presidential Medal of Freedom, the highest American peacetime award.
Born in 1930, Buzz was educated at West Point. He then joined the Air Force where he flew 66 combat missions in Korea and received the Distinguished Flying Cross. Buzz received his Doctorate of Science in Astronautics at MIT before being selected by NASA in 1963.
Buzz devised docking and rendezvous techniques for spacecraft in Earth and lunar orbit which became critical to the success of the Gemini and Apollo programs. He has received three U.S. patents for his schematics of a modular space station, founded Starcraft Boosters, Inc., a rocket design company, and the ShareSpace Foundation, a nonprofit devoted to advancing space education.
An accomplished writer whose work has appeared on the New York Times best-seller list, Buzz has most recently wrote an autobiography called Magnificent Desolation: The Long Journey Home From the Moon.
Named for Buzz are: Asteroid "6470 Aldrin," "Aldrin Crater" on the moon and, of course, Toy Story's infinitely popular spaceman—Buzz Lightyear. But wait, there's more! The MTV Music Video Award, "The Moonman" was originally called "The Buzzy" and is shaped in his image.
Sure, it's nice to have your name on a plaque that sits on the surface of the moon, but we're thinking this great American hero would love to have a shiny new disco ball trophy in his home right here on Earth. At least, that's Buzz around the dance floor.
---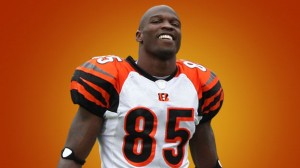 Chad Ochocinco
Here's a man who's got the moves on the football field. He has speed. He has agility. But how's his samba?
With a name that would be a task and a half as a Wheel of Fortune puzzle, Chad Ochocinco is one of the NFL's most prolific wide receivers. Completing his ninth season with the Cincinnati Bengals, he holds the franchise record for most receiving yards in a season, most receiving yards of all time, the most receptions, the most receiving yards in a game, the most seasons with over 1,000 receiving yards and the most touchdowns in a game.
Chad is a six-time Pro-Bowler and named All-Pro three times. He made headlines in 2008 when he legally changed his name from Chad Johnson to Chad Ochocinco to match his jersey number "85."
Chad is currently the spokesman for Degree, teaming up with them to endorse their line of men's deodorant products. Motorola recently jumped on board to make him the face of their new Motoblur line of products including the Cliq and the Droid.
Chad's popularity can best be seen by his use of social media sites like Twitter and Ustream. Alternatively, Rock Software has produced an iPhone Application that gives users the ultimate "Ocho Cinco Experience."
Whether it is teaming up with Motorola to give away hundreds of seats to a Bengals game or racing a thoroughbred for charity, he understands the importance of giving back and staying grounded to his roots.
On a more global scale, Chad has partnered with Feed The Children to raise awareness for the worldwide epidemic of hunger and poverty facing children around the world.
We've seen him do his touchdown dances in the end zone. Now Chad must strut his stuff on the dance floor. Will he score as many points with the judges as he does in the NFL? We'll see because it's game on!
---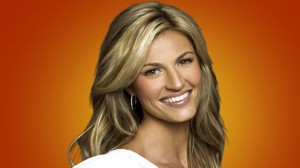 Erin Andrews
She's normally on the sidelines calling the action. Now she's bringing her A-game to the dance floor!
Since joining ESPN in 2004, Erin Andrews has become one of the most well-known sports reporters in the country. Having begun her career at ESPN as a reporter for the network's NHL coverage, Erin has served as a reporter for ESPN College Football Saturday telecasts, Saturday Primetime college basketball games and Big Ten college basketball coverage.
In 2005, she began reporting from the sidelines of the ESPN College Football Primetime series on Thursday nights and added Major League Baseball sideline reporting to her responsibilities, including the Monday Night Baseball telecasts.
Erin has been a reporter on ESPN's College World Series telecasts since 2005 and has worked ABC's coverage of the Scripps National Spelling Bee as a reporter since 2008.
A native of Lewiston, Maine, Erin graduated from the University of Florida where she was a member of the Gators' basketball dance team from 1997-2000. Old habits must die hard because Erin is dancing once again. We can't wait to see how far Erin will go as she leaves the sidelines behind to take center stage on Dancing with the Stars!
---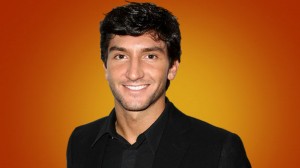 Evan Lysacek
Fresh from the ice in Vancouver, will this skating star be displaying a shiny new mirror ball trophy next to his gold medal?
Olympic Gold Medal Winner and World Figure Skating Champion Evan Lysacek has been hitting the ice since the age of 8. That's when he received his first pair of hockey skates. Good thing his folks didn't give him a bowling ball. Otherwise, he may not have developed such a passion for skating. His win on the ice in Vancouver was the first in 22 years for an American male at the Olympics.
A native of Naperville, IL, Evan relocated to Los Angeles at the age of 18 to train with Frank Carroll who, in addition to his Olympic and World titles, has also coached Evan to two US National Titles. The pair also pulled out a 4th place showing at the Torino Games in 2006.
In the spring of 2010, Evan will also be touring as a member of the cast of Stars on Ice. But for now, he'll have to trade in his ice skates for dancing shoes as this Olympic champ slides and glides onto the stage of Dancing with the Stars!
---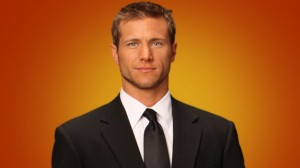 Jake Pavelka
Sorry ladies, he's taken.
As the handsome commercial pilot and most recent single guy looking for love on ABC's The Bachelor, Jake Pavelka has the reputation as an honest guy with an open heart. He has been a fan favorite since viewers were stunned when Jillian rejected him right before the hometown dates on the previous season's The Bachelorette.
With a positive outlook on the experience, Jake won over the hearts of many and met his match as he narrowed 25 lucky bachelorettes down to one this past season.
An accomplished pilot, Jake grew up in Denton, Texas and attended University of North Texas and Embry Engineering University for Aerospace Science. He became an airline captain flight instructor at 23. On his days off, he has fun flying acrobatic planes and woodworking at the home he owns near Dallas.
Now this handsome aviator had landed on the Dancing with the Stars stage. Ladies and Gentleman, please return your tray tables to their upright position and buckle up for a sexy ride as Bachelor Jake soars once more, this time on the dance floor.
---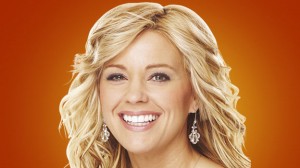 Kate Gosselin
She's a woman in control with a lot going on. But Kate Gosselin's dance card just got a little more full.
Kate Gosselin has the joy, frustration and honor of raising eight children, twins and sextuplets, in central Pennsylvania. The daily lives of her family were chronicled for five seasons on TLC's hit show Jon and Kate Plus 8.
Kate is a sought-after speaker, author of the New York Times bestselling books, Multiple Blessings and Eight Little Faces, and is currently in production on a new show for TLC. Her latest book, I Just Want You To Know, will be in stores this Spring, 2010.
Now, we all know that the training for Dancing with the Stars can be a grueling, painful, exhausting journey. We suspect that after raising eight kids, Kate will think it's all just a walk (or dance) in the park.
---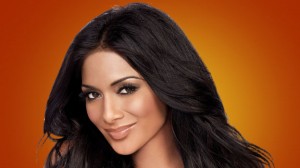 Nicole Scherzinger
Nicole Scherzinger was born in Honolulu and grew up in Louisville, Kentucky. She's a singer, songwriter, trained actress, performer and the lead singer of The Pussycat Dolls. Nicole was asked to join the Pussycat Dolls recording group as the lead singer after being recognized from her success on the TV show Popstars and the group Eden's Crush.
The Pussycat Dolls 2006 debut album PCD went double-platinum in America and sold over nine million copies worldwide with several Top-10 hits songs including Don't Cha, Buttons and Stickwitu. Following the success of PCD, Nicole recorded a series of duets and guest vocal appearances with artists such as P.Diddy, 50 Cent, Timbaland, Vittorio and several others.
Nicole also released two solo singles and videos before recording the second Pussycat Dolls Album, Doll Domination, which has sold over 5 million copies containing hits like When I Grow Up and I Hate This Part. She has toured the globe as a headline act for over six years, playing stadiums and arenas and appearing on countless TV shows worldwide.
In 2009, Nicole recorded an adaptation of the AR Rahman Song Jai Ho from the film Slumdog Millionaire. The song hit #1 in 17 different countries. Nicole is currently writing and recording new songs for release in 2010 while pursuing her love for acting and musical theater. With such a busy schedule, we're sure glad she found time to do a little Dancing with the Stars!
---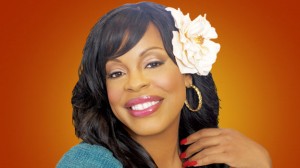 Niecy Nash
If ever there was anyone poised to mop up the competition on the dance floor, it would have to be the host of a show called Clean House. That's Niecy Nash!
The host and producer of the Style Network's home makeover show, Clean House, Niecy is a two-time 2009 Daytime Emmy nominee and the new Celebrity Panelist for the entertainment news program The Insider.
Niecy recently won a 2010 Gracie Award for her well-known role as no-nonsense Officer Raineesha Williams on the Comedy Central hit Reno 911! and it's spin-off film Reno 911: Miami.
In 2008, Niecy starred in her own FOX comedy series, Do Not Disturb. She is also well-known for her recurring role on the comedy series The Bernie Mac Show.
Niecy's most recent film work includes Not Easily Broken and the Walt Disney Pictures' G-Force. Additionally, Niecy is developing various television and film projects through her own production company, Chocolate Chick, Inc.
The proud mother of three adoring children, when asked what her hobbies are, Niecy proudly replies, "motherhood," which she considers her greatest success in life.
We're sure all those kiddies keep Niecy on her toes. That should bode well for the fancy footwork she'll need on the Dancing with the Stars stage. Just how far will Niecy go? We have no idea. But we can't wait to find out!
---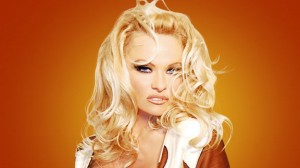 Pamela Anderson
Has anyone ever run across the beach in slow motion while holding one of those orange floaty things better than Pamela Anderson? Now we get to see how she does after ditching the swimsuit for some sequins and heels.
Model, actress, mother, entrepreneur, philanthropist and activist, Pamela Anderson is a sex symbol who has appeared on more magazine covers than any other star of her generation. She was even named in the Guinness Book of World Records as the Internet's "most downloaded" star.
After being introduced to TV audiences as the "Tool Time Girl" on the hit series Home Improvement, Pam went on to star in the global phenomenon, Baywatch. Her other TV work includes the hit series V.I.P. and her recent documentary series Pam&nmash;Girl on the Loose. On the big screen, Pam starred in Barb Wire and Borat, in which she played herself and the object of Borat's affections.
Pam's current projects include her role as the "face" of the current campaign for the work of legendary designer Vivienne Westwood, and her partnership with her friend, designer Richie Rich, on the A*Muse brand&mndash;a line of clothing inspired by Pam and created by Richie.
Pam recently launched her own fragrance "Malibu by Pamela Anderson" (along with other beauty-related products); all now available in drug stores worldwide. She also continues her extensive charity work in many areas, among which PETA remains her first love.
Dancing with the Stars just got a whole lot sexier now that Pamela Anderson is taking to the floor. Wonder if she'll do any of her dances in slow motion. Nah.
---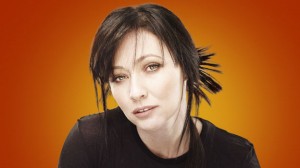 Shannen Doherty
We've watched her grow up, but we've never seen her dance.
Shannen Doherty is a TV icon known throughout the world. She soared to fame as everyone's favorite troubled teen twin Brenda Walsh on the popular television series Beverly Hills, 90210 and later as the bewitching Prue Halliwell on Charmed. All this came after beginning her career at 11 years old starring as Jenny Wilder in Little House: A New Beginning.
Over the course of her career, she has appeared in numerous made-for-TV-movies, television series and films including Heathers and Mallrats. Shannen later went on to produce and star in her own reality show, Breaking Up With Shannen Doherty, for the Oxygen Network in 2006.
Recently, Shannen reprised her role as Brenda Walsh on the CW's 90210 and completed filming the Hallmark made-for-TV-movie Growing the Big One. She is also the author of the upcoming book Bad Ass from publisher Clarkson Potter.
We can't wait to see this talented actress take on her latest role as a dancer on our stage. Wonder if the judges will have a special paddle for her with a 90210 on front.
---
What do you think of the 2010 Dancing With The Stars Lineup? Let us know in the comments below!