Comedy Review: Lewis Black at Stifel Theatre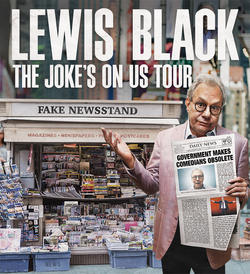 Anticipation built throughout the day of the show.  The last time I caught Lewis Black live was at the Pageant in 2005 when he followed the great, legendary Mitch Hedberg as they both opened for Comedy Central Live Presents Dave Attell: The Insomniac Tour.  It was at a time when Comedy Central's Daily Show was hosted by liberal political commentator, Jon Stewart, and was at its height of popularity.  Side note: Upon Stewart's departure, viewership declined dramatically, but is gaining momentum – especially among minorities and millenials – since the change in geopolitical climate at  beginning of the current presidential term. Okay….back to the review.
Hedberg, Black, and Attell killed during their sets in 2005.  I mistakenly approached a night at the beautifully ornate Stifel Theater for Black's show with high expectations.  I've also learned that when you approach (nearly anything in) life with expectations, you'll find disappointment. Being a long-time fan of Lewis', it pains me to say that I walked away slightly disappointed.  
Jeff Stilson warmed up the crowd with a set that went on longer than the crowd desired.  Jokes were a bit tired. So much so, that Stilson made comments on more than one occasion during his 30 minute set to the less than enthusiastic response from the audience.  His material largely consisted of anecdotal quips about marriage, kids, and…yeah…marriage and kids. Stilson actually has quite a resume. He's worked as a writer for The Late Show with David Letterman, and as a producer and writer for The Chris Rock Show, Da Ali G Show, Last Comic Standing, and The Daily Show, among many others.  
At the end of his set, I was pleased to hear him announce a 20 minute intermission.  I've never in the history of history been more excited about an intermission than seeing the headlining act.  It was almost like he wore me out.
Lewis Black took the stage 20 minutes later, as promised.  Of course we all experience the aging process and yes, I'm aware that it's been 14 years since I've seen him last.  With that said, aging does not seem to have done him any favors.
Larry King…..ahem…cough…cough…..Lewis Black appeared wearing his signature gray suit and acknowledging the St. Louis crowd by mentioning the name of the theater that always seems to change.  He ranted throughout his set in the angry-old-man style for which we've always loved. He expressed his strong disdain with having to be there instead of watching "FUCKING MARCH MADNESS!!!!" and followed his theme of the feigned sustenance of life.  This is not to be confused with existential spirituality, complete happiness, or an intact family. It is 2-day shipping. Yes, 2 day shipping is what makes life full, complete, and contributes to our need for instant gratification and incessant laziness as a society.  Additionally, he appropriately addresses medications targeted to the lower middle to middle class baby boomers (which comprised about 90% of the audience).
At the end of his set, he prefaced his exit with details of his return to the stage in 10 minutes to perform a brief set where he reads rants that are submitted via text message to a given website.  This part of the performance is broadcast live via satellite. This demonstrated Black's ability to think on the fly and and test his quick wit with unprepared material. This, by far, was the best part of the show.
The rants were submitted largely by audience members with regard to anecdotes relating to the shittiness of St. Louis and delivered in that unique Lewis Black inflection that we love.
As Black thanked the crowd and while bidding farewell to the audience (which only filled about 50% of the theater), the isles were flooded with people pursuing their departure.  To clarify, people were getting out of their seats and leaving before LB even walked off the stage.
Black was expected to do a meet and greet following the show.  I'm sure this was in order to promote the sale of merchandise. Truth be told, I've never seen a merch table with this many items for sale; not for comedians, not even for bands!  
Overall, Lewis wasn't terrible, but historically it certainly wasn't on par with what we're used to getting from him.  (Maybe a double bogey, at best.)
I give this show a C.