Clash of the Titans HD Trailer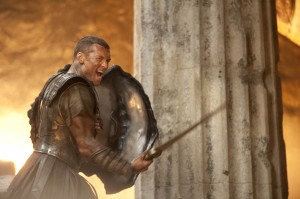 If you show a teenager now the original Clash of the Titans, they are going to laugh at it. The stop motion effects by Ray Harryhausen are dated to the point that a remake of the classic tale of Perseus makes sense. It looks like they are taking some newer films into account when making it. Looks like the recipie calls for equal parts of 300 and Transformers, and mix in a few other blockbusters for seasoning. I really doubt that this film will fail at the box office.  By the time it arrives on screen audiences will already have become acquanited with its star, Sam Worthington, who also stars in the hopeful mega-blockbuster of the Christmas season, Avatar. The film also has the always venerable Liam Neeson, villanous Ralph Fiennes, upcoming star Gemma Arterton. Expect summer blockbuster season to start real early with this one.
Synopsis:
The ultimate struggle for power pits men against kings and kings against gods. But the war between the gods themselves could destroy the world. Born of a god but raised as a man, Perseus (Worthington) is helpless to save his family from Hades (Fiennes), vengeful god of the underworld. With nothing left to lose, Perseus volunteers to lead a dangerous mission to defeat Hades before he can seize power from Zeus (Neeson) and unleash hell on Earth. Leading a daring band of warriors, Perseus sets off on a perilous journey deep into forbidden worlds. Battling unholy demons and fearsome beasts, he will only survive if he can accept his power as a god, defy his fate and create his own destiny.
Cast: Sam Worthington, Liam Neeson, Gemma Arterton, Ralph Fiennes, Danny Huston
Director: Louis Leterrier
Release Date: March 26, 2010