New "Chronicles of Narnia: The Voyage of the Dawn Treader" HD Trailer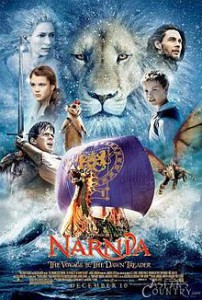 I have really enjoyed the Narnia franchise thus far so am very happy to see this film still get released after Disney dropped it.  It looks to keep the same tone and atmosphere of the first two films which is fine by me, but not a great sign as far as profit goes.  The first two films under performed, and I think this really needs to be a knockout for a studio to continue to churn these out.  Unfortunately, it is coming out at a time when a lot of Oscar contenders are seeing release, and a lot of people may still be seeing Harry Potter and Tron: Legacy.  We will soon find out if this film can hold its own in a busy December.
Synopsis:
The journey takes Edmund, Lucy, their cousin Eustace and King Caspian to the Eastern Islands, beyond the Silver Sea.  Their mission takes the couragous voyagers to mysterious islands, a river that turns to gold, confrontations with magical creatures and sinister enemies.  They reunite with their old friend and protector Aslan to save Narnia from a ghastly fate.
Starring: Skander Keynes, Georgie Henley, Will Poulter, Ben Barnes, Liam Neeson
Directed by: Michael Apted
Produced by: Mark Johnson, Andrew Adamson, Philip Steuer, Douglas Gresham
Genres:  Fantasy and Adaptation
Release Date: December 10, 2010
[hdplay id=183 playlistid=2 width=600 height=400 ]