Carey Mulligan Cast as Daisy in Baz Luhrmann's "The Great Gatsby"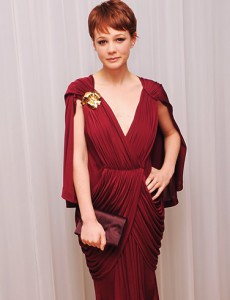 Although, Moulin Rogue director Baz Luhrmann has not yet committed to doing The Great Gatsby as his next film, the fact that he cast Academy Award nominee Carey Mulligan as the lead is a sure sign it will be his next project.
Luhrmann informed Mulligan himself on the red carpet for The Fashion Council Awards, an act which reportedly brought Mulligan to tears over winning the highly coveted role. Luhrmann famous for his Red Curtain trilogy, looks to come back strong after a slightly panned effort with Australia. This time his source material, F. Scott Fitzgerald's The Great Gatsby, should provide him sufficient material to be at the very least a critical darling.
Mulligan, playing the female lead Daisy, will be joining Leonardo DiCaprio and Tobey MacGuire who will play Jay Gatsby and narrator Nick Carraway, respectively.
I really enjoy Luhrmann's Red Curtain trilogy, but I have yet to watch Australia all the way through. I'm really hoping Gatsby will be his return to form. It gives me a little hope to see such great names heading the cast list. Let's hope it can live up to the hype.
What do you think? Let us know in the comment!