Cardinals Thoughts, Big 12 Begone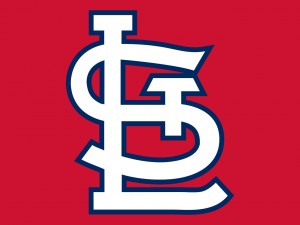 Welp, aside from Ryan Ludwick and Chris Carpenter, I think it's safe to say none of the Cardinals showed up to play in LA this week. Studwick went 4 for 12 with three bombs and five RBI. Carpenter pitched a terrific game on Tuesday but got a no-decision as the Cardinals ultimately lost 1-0. The Birds have an off-day to regroup before heading down to Arizona to take on the D-Bags…er, D-Backs.
The MLB draft was held this week starting Monday. Although it doesn't receive nearly the fanfare of the NFL draft, it was pretty cool that the draft is starting to gain more recognition, as it was broadcast on television as well as on the internet.
Some thoughts on the Cardinals draft picks:
Zack Cox, 3B, Arkansas – First Round, 25th overall

Zack was considered by a lot of people to be a top-10 pick, so for him to fall to the Cardinals at 25 was a pretty pleasant surprise. Zack hit a lot of home runs his first year, but his average suffered. He re-tooled his swing and this year hit over .400 but saw his power drop. Perhaps a few adjustments in the minor league can find a bit of a balance, as he was thought to be the best college hitter in the draft.
With Freese at third, it seems less likely Cox will stay at 3B. He spent some time at 2B, where power is less demanded than average, so it's possible he could find a new home there.
Seth Blair, RHP, Arizona State – First Round Supplemental, 46th overall
Blair was the Pac-10 pitcher of the year, the top starter on the top-ranked team in the nation. Along with Tyrell Jenkins (taken four picks later), the Cardinals have now spent three first-round picks on pitchers in the last two years.
Blair's got good stuff, obviously, but the Cardinals haven't had the best of luck when it comes to drafting pitchers in the first round. Obviously the jury's still out on Shelby Miller, but look at the Cardinals' last few first round pitchers:
Adam Ottavino (2006) – currently with Cardinals
Chris Lambert (2004) – career record 1-3, 7.36 ERA, in Baltimore Orioles minor league system
Justin Pope (2001) – out of baseball, never progressed above AAA
Blake Williams (2000) – out of baseball
Chance Caple (1999) – out of baseball, never progressed above high A
The Cardinals did have some moderate success in the mid-90's, picking Braden Looper, Alan Benes, and Matt Morris, but the fact is they haven't produced a dominant arm in a long time.
Austin Wilson, OF, Harvard-Westlake HS – 12th Round, 379th overall
Signability is the only reason Wilson fell this far. Nearly every scout in existence thinks the guy has top-tier potential. He is a remarkable five-tool player, and he's pretty bright, having committed to Stanford.
The latter is the main concern. Wilson's said repeatedly he wants to get an education, and from what I hear, Stanford is a pretty decent place to do that. If the Cardinals can convince him to sign, it'll be a remarkable deal.
The Cardinals have done reasonably well recently in the draft, aside from the Peter Kozma turdburger they bought in 2007, but their farm system's been depleted recently through trades. They picked up some decent reinforcements this year.
On to other sports…
Big 12 No More
With the pending announcements that Nebraska (most likely heading for the Big 10, which oddly enough has 11 teams) and Colorado (Pac-10) will both be leaving the Big 12, the Big 12 is likely to dissolve soon. Missouri's been contemplating leaving as well, as they could earn more money elsewhere and have likely felt snubbed recently by college football, having been passed over to play in more prestigious bowl games in favor of other Big 12 teams. The four Texas-based schools (Texas, Texas Tech, Texas A & M, Baylor) all appear to want to remain together, and the Pac-10 has up to five more remaining invitations. Oklahoma could most likely join them as well, creating a football powerhouse conference set to destroy lives.
This leaves Oklahoma State, Kansas, Kansas State, Missouri, and Iowa State
Mizzou is in a bit of a predicament, however, as they appeared to be banking their hopes on a Big 10 invitation. With Nebraska joining, however, and Notre Dame as the Big 10's wet dream, it appears unlikely Mizzou will get an invitation. It'll be interesting to see how it plays out and whether or not Missouri and Kansas can continue the Border War Showdown.