Cameron Diaz Set To Star Alongside Colin Firth In "Gambit"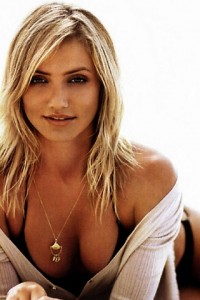 Cameron Diaz's last high profile film was Gangs of New York.  In case you forgot, that film starred Daniel Day-Lewis and Leonardo Di Caprio, was directed by Martin Scorsese, and was nominated for ten Academy Awards.  Since then Diaz has starred alongside Seth Rogen, Ashton Kutcher, and Jack Black among others.  Now she is getting ready to rub elbows with some Oscar winners once again.
Gambit is a film written by Joel and Ethan Coen, starring Colin Firth, and directed by Michael Hoffman.  It is a remake of a caper comedy of the same name set in London.  The two original leads were Michael Caine and Shirley MacLaine.  I am not sure that Firth has the same clever wit and charm that Caine had, but I trust that Firth can slip into a role and create a character.  Diaz on the other hand, I am not so sure.
The original Gambit is a comedic caper revolves around a professional thief who recruits a Eurasian nightclub singer to go along with him on a planned burglary of a statuette owned by a wealthy Arab.  It received mediocre reviews, currently sitting at 79% on rottentomatoes.  Did the Coen problems write a screenplay that will surpass the original?
Is Diaz about ready for a career comeback?  Let us know what you think in the comments below.