Bungie's 'Destiny' Box Art Revealed, Watch Official Gameplay Trailer "The Moon"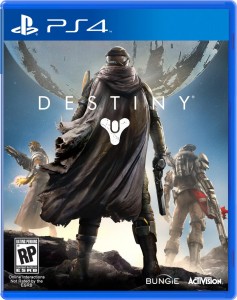 The hot-off-the-presses official box art for Bungie's interstellar Borderlands-esq shooter Destiny was revealed Monday through the company's Twitter feed.
The art depicts 3 characters standing in the very predictable Call of Duty-box art pose (gun in hand, facing ominously towards the sky). In the sky we can see "the Traveler" the sphere-like being that saved humanity from certain extinction.
I've never been one to get my Jimmie's rustled over box art, but some people on the popular video game forum neoGAF have expressed their dislike for the newly revealed cover art. It sits on a shelf anyway, almost never looked at, why get mad? If this is what helps Bungie sell more copies to the more casual gamer unaware of Destiny, so be it.
Ken Levine of Bioshock Infinite fame goes into good detail about why box art has to be what it is, here: http://www.wired.com/gamelife/2012/12/bioshock-infinite-box-art/
Bungie also released a brand new gameplay trailer, entitled "The Moon" –

I can't wait. Seriously, now that Bungie is unhinged from Microsoft, Halo and has the backing of Activision (money), we can expect great things from this talented developer.
Destiny will be available in 2014 on PS3, PS4, Xbox 360 and Xbox One.