Buffy the Vampire Slayer Might Get The "Reboot"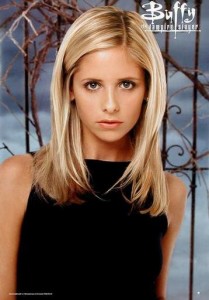 According to The Hollywood Reporter, Vertigo Entertainment and Fran Rubel Kuzui (who directed the original "Buffy" movie in 1992) are in cahoots to develop a reboot of the Buffy franchise. But I think the craziest part of the whole thing is that Joss Whedon, who created "Buffy the Vampire Slayer" is not involved! The reason being that Kuzi and her husband found Whedon before he was big, and obtained the rights to the now "household" name.
So the new "Buffy" franchise would reportadly start off with a clean slate, and would have no connection to the TV series. That means that none of the characters that you have come to know and love are safe (yes Angel fans, even Angel…). The Hollywood Reporter likens the reboot to that of "Star Trek," saying that "Vertigo and Kuzui are looking to restart the story line without trampling on the beloved existing universe created by Whedon…"
If they can even come close to doing to Buffy what J.J. Abrams did to "Star Trek," then we have something to look forward to.