'Bring It On: The Musical' Offers Big Laughs, Bigger Stunts at the Fox Theatre (Review)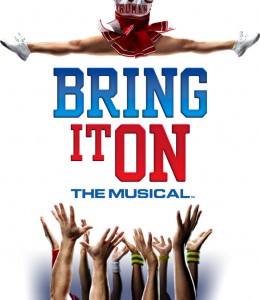 I honestly did not know what to expect going into the Fabulous Fox Theatre on Tuesday, as I prepared to see Bring It On: The Musical on opening night. It has been years since I've seen the movie – over a decade to be exact. And although it wasn't the best film I've seen, it was at least entertaining. Luckily for myself and the thousands of patrons that filled the Fox Theatre Tuesday night, Bring It On: The Musical definitely brought it's A game.
The story has many of the same elements that I remember from the film, but things have changed a bit as well. Campbell (TAYLOR LOUDERMAN) is the captain of the cheerleading squad at Truman High School, but is suddenly forced to change schools after her house is redistricted. She is sent to Jackson, a rough and underfunded school, where she doesn't fit in and there is no cheerleading squad. Back home she finds out that her second in command Skylar (KATE ROCKWELL) has to step down as captain due to grades, and third in line Kylar (JANET KRUPIN) has to take a break due to mono. This leaves Eva as cheer captain, a sophomore who only Campbell took pity on and allowed to join the squad. After finding out that the series of unfortunate events may not be so coincidental afterall, Campbell scatters to form a squad in order to compete against Truman. Luckily she has the help of her only friend at Jackson – Bridget (RYANN REDMOND), a girl who never fit in back home but does so surprisingly well at their new school.
At Jackson, Danielle (ADRIENNE WARREN) is queen bee, and also the leader of the dance crew. She and her friends Nautica (ARIANA DeBOSE) and La Cienega (GREGORY HANEY) want nothing to do with the idea of forming a cheerleading squad, but Campbell convinces them that there are fame and benefits that come along with the deal. With only weeks before the competition that will qualify them for nationals, this make-shift squad has to overcome the odds which are cleary stacked against them and become the team that Campbell knows they can be.
Right from the start you know the show is not trying to be anything other than what it aims to be. It is a clever, well written musical comedy that doesn't have any problem poking fun at itself or it's subject matter. If it would have tried to be serious there is no way it would worked out well. But the show is truly funny, and has a lot of laugh out loud moments from start to finish. And the music and choreography – not to mention the incredible stunts – were outstanding. But in hindsight, this should come as no surprise knowing that the show is the result of the efforts of Tony Award-winners Jeff Whitty (Avenue Q), Lin-Manuel Miranda (In The Heights), Tom Kitt (Next to Normal), Alex Lacamoire (In The Heights) and Andy Blankenbuehler (In The Heights). This show has some amazing talent behind it, on-stage and off, and it definitely shows.
The entire cast of Bring It On: The Musical is great, and is incredibly talented for pulling off what we know is extremely challenging and making it look easy. Not only does the cast have to act and sing in this musical, but the same actors also weave in an array of intricate cheerleading routines and high-flyng stunts into the mix. And you can tell that many of the actors on the tour are professional cheerleaders – many of them cheering for collegiate and professional teams and winning numerous titles.
Taylor Louderman, a native of Bourbon, MO, is charming and extremely likable in the lead role of Campblell. She plays a genuinely sweet character amongst a sea of high school populars and drama queens, and is refreshing to see as a rolemodel for the young girls in the audience. She has a great voice, and I can't imagine having to sing while being lifted in the air and performing cheerleading choreography. She and Adrienne Warren, who also has a great voice, make a great team on-stage.
There is such a great supporting cast in the show, I don't even know where to begin. Kate Rockwell and Janet Krupin as Skylar and Kylar respectively were great as the self proclaimed "bitchy" Truman High cheerleaders. The two of them play what you think of as the stereotypical, popular girl in high school and they do a great job playing off of one another. Jackson High is where we spend most of our time, and the students there deserve the credit for many of the laughs in the show. Ariana DeBose and Gregory Haney play Nautica and La Cienega, the Jackson counterparts to Skylar and Kylar, and do a great job as they give advice to the leads on how to fit in at school. I have to give major credit to Haney in particular, playing a transgender female in the show, and stealing the spotlight in almost every scene he appears in. His performance is brilliant; everything from the way he carries himself to his singing and acting is fantastic. Not to be forgotten is Nicolas Womack, who plays Twig – the charismatic love interest to Bridget. Channeling his inner Lin-Manuel Miranda, he is another actor that steals the show when he comes on-stage.
If you are thinking that Bring It On: The Musical is just going to be the movie converted to the stage, you a wrong. Sure there is cheerleading, and some similar plot points – but overall this is a whole new show. Whether or not you are a fan of the source material, I challenge you to give it a chance. Although I'm sure the show targets a young female demographic, I am willing to bet that audiences young and old, male or female will thoroughly enjoy it. The comedy has some of the biggest names in musical theater behind it, and it clearly shows. The singing and dancing are great, the cheerleading moves are fantastic to watch, and the writing is clever and entertaining. I can honestly say that the show is one of the most fun times I have had at the Fox.
A
Bring It On: The Musical is playing the Fabulous Fox Theatre in St. Louis from March 27 to April 8, 2012! Performances are Tuesday-Friday at 8pm, Saturday at 2pm & 8pm, Sunday at 2pm, Sun, April 1 at 7:30pm and Thursday, April 5 at 1pm. The running time is 2hrs, 20 minutes and tickets range from $15 to $75. Purchase tickets at Metrotix, or visit the Fabulous Fox website for more details.